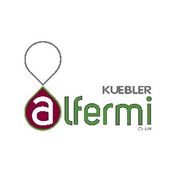 Kübler-Alfermi GmbH
About Kübler-Alfermi
The company Leo Kübler GmbH was founded in 1948 by Mr. Leo Kübler in Karlsruhe-Mühlburg. At this time the production program consisted mainly of glasware such as hydrometers and thermometers.

After the death of Mr. Kübler, the company was managed by his wife for a short period before it was transferred to the current CEO, Dr. Bernd Alber.

Under the management of Dr. Alber, the production program has been extended successively and does not only include high-precision hydrometers and refractometers but also fully- and partly-automated measurement systems and instruments, as well as smaller analysis kits for the determination of all relevant parameters for beverage analytics - particularly for wine, beer and distillate.

As a supplement Leo Kübler GmbH continues to sell the original glasware; in addition other merchandise articles for wine makers, brewers and fruit juice producers are being sold such as yeasts, wine maker sets for hobby producers as well as various smaller products and gift articles.

Moreover, since the middle of the 80ies the company has been contract partner and representative of the Japanese company ATAGO for Europe - with sole distributorship particularly for Germany. ATAGO is famous worldwide for it's excellent refractometers.

Over time products from the companies Milwaukee and IOC (yeasts, among others) have been added to the sortiment.

Since early 2010 also the representation of Gibertini, an Italian manufacturer, has been accepted for Germany. This cooperation has made it possible that even fully-automated analysis systems, with which nearly the entire beverage analysis can be performed, are now part of the product range.

In this regard it has always the aim of our company - in dialogue with the customer - to deliver top quality at payable (favourable) prices and at the same time securing advise before and after sale. The result of which is: We have become a reliable partner for our customers and dealers in our region as well as on an international level.
Facts about Kübler-Alfermi
Facts about Kübler-Alfermi
Focus : Manufacturer
Industry : Lab Technology
Products from Kübler-Alfermi
Here you will find Kübler-Alfermi GmbH