Start-up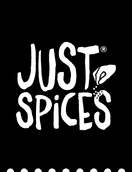 Just Spices GmbH
About Just Spices
The idea for Just Spices was born in 2014 by Florian Falk, Ole Strohschnieder and Béla Seebach in Düsseldorf. With numerous spice blends, the company inspires a growing number of buyers both online and with an increasing presence in food retail to refine their own dishes and get creative in the kitchen themselves.

In 2018, the innovation driver additionally launched the organic fixed category Just Spices IN MINUTES online as well as in retail and has since set new standards for the quick and hassle-free preparation of modern everyday dishes. Since the beginning of 2021, eight fixed organic salad dressings without added sugar have supplemented the range.

With now more than 150 employees, Just Spices pursues the vision of getting more people cooking. Above all, Just Spices means passion, high quality and no additives in the products. But the most important principle is to make delicious things even tastier and to get as many people as possible to cook for themselves with joy and pride.
Note: This article has been translated using a computer system without human intervention. LUMITOS offers these automatic translations to present a wider range of company presentation. Since this article has been translated with automatic translation, it is possible that it contains errors in vocabulary, syntax or grammar. The original article in German can be found here.
Facts about Just Spices
Facts about Just Spices
Founding: 2012
Focus : Manufacturer
Products from Just Spices
Here you will find Just Spices GmbH