Optimize Your Food Processing, Food Analysis and Food Quality Control with Precise Weighing
In the production process of food, many ingredients and processed materials must be weighed accurately to ensure proper proportions to produce a consistent product. This helps to streamline the production process and reduce waste. In addition, quality control addresses food safety and through analysis of raw materials, intermediate and finished products. Examples of food analyses are the composition of food, structure, physicochemical properties, and sensory attributes. For most of these analyses, the basis of reliable results is accurate weighing therefore, it is critical to make use of the right balances in the food industry.
Download this application note to learn more about some of the key laboratory weighing applications in the food and beverage industry. This application note explains how METTLER TOLEDO's balances for the food industry help you deliver accurate weighing results by simplifying food weighing processes and optimizing workflows.
White Paper classification
Applications
Product categories
Download white paper now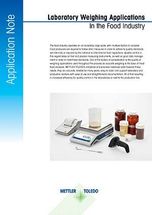 Laboratory Weighing Applications in Food and Beverage
Optimize Your Food Processing, Food Analysis and Food Quality Control with Precise Weighing
You may also be interested in these white papers