Brewers can profit from the home baking boom
Sustainability is the natural benefit of upcycling spent grains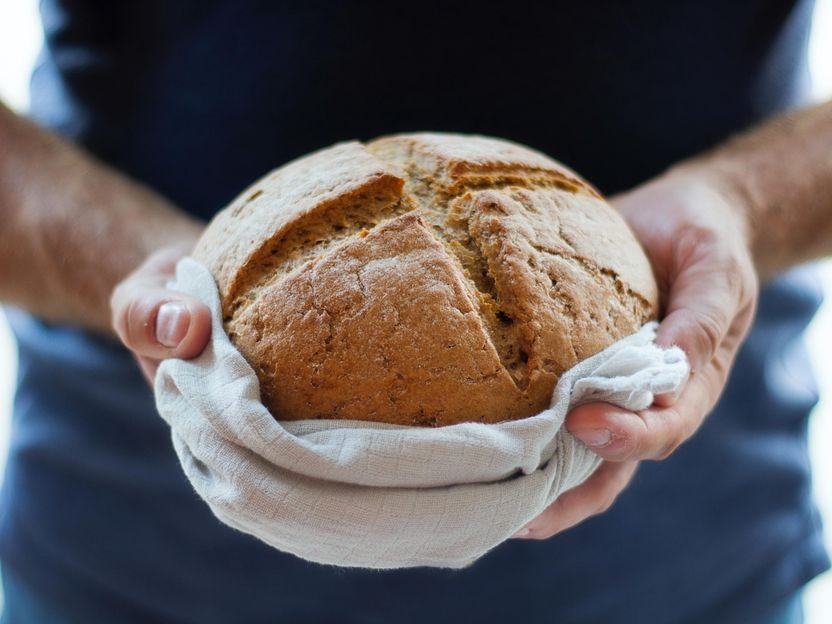 Photo by Kate Remmer on Unsplash
Many breweries donate or sell their spent grains to be used as animal feed, compost or biofuel. But spent grains are high in minerals, protein and dietary fiber, making them useful ingredients in food for people or pets.
Spent grain flour is a sustainable product that can be upcycled to create more nutritious and flavorful homemade bread and baked goods. For example, the Danish company Agrain offers a flour made with spent grains from India Pale Ale (IPA) beer that is recommended for use in carrot cake.
Baking offered respite and a creative outlet during the outbreak
In early 2020, many people used social distancing time to develop their baking skills. Global social media feeds showed off homemade bread, cakes and other baked goods. The increase in interest even triggered shortages of flour and yeast in the UK, US and China.
To encourage home bakers, chefs offered online classes and sold baking kits. For example, US chef and owner of Milk Bar bakeries, Christina Tosi, started daily live Bake Club tutorials on Instagram.
Sustainability is the natural benefit of upcycling spent grains
Making efforts to upcycle barley and other leftover brewing grains can bolster a brewery's sustainability credentials. Breweries that use spent grains or partner with food companies that make upcycled products can promote the effort as part of their sustainability initiatives. Selling spent grains would create a small but helpful revenue stream as brewers struggle to make up for lost on-premise volume sales caused by COVID-19 shutdowns.
Pandemic raises awareness of food waste
The pandemic has also made food waste a hot topic. With more time at home, people gained visibility into their household's food waste. People also made do with what was in their pantries due to anxieties about grocery shopping. In Italy, nearly four in five adults said COVID-19 had encouraged them to waste less food at home, according to Mintel research on the impact of COVID-19 on food and drink in Europe.
Consumers will appreciate that upcycling spent grains saves an edible ingredient from landfills. Spent grains feature on many brewpub menus around the world. Yet not every brewery has the equipment and/or the capacity to remove the moisture from brewing.
Breweries can sell spent grains to bakeries or other manufacturers that have the ovens or dehydrators to process the wet grains and equipment to package or use them as ingredients. For example, Rise Products sources spent grain from local New York City breweries to make spent grain flour, brownie mix and baked goods.
Agrain builds portfolio around beer styles
Danish company Circular Food Technology's Agrain line highlights the styles of beer used to make its sustainable, flavorful and nutritious spent grain products.
Agrain 01 Organic Barley Malt Flour is made using organic pilsner mash from beer brewing. It is said to have a neutral taste and be high in dietary fiber and proteins. The company also has flour made from IPA, stout and whiskey mashes.
Agrain Honey Roasted Granola with Mash, Berries and Fruits is an organic and sustainable granola made with 8% mash flour from the production of stout beer. The upcycled mash flour also is used in Honey Roasted and Nutty Granola.
Agrain Organic Crisps with Indian Spice are described as sustainable crisps made with 25% organic grains from the production of Bombay IPA from the Nørrebro Brewery in Copenhagen. The IPA is also a base for a Salted Crisps variety.
Connecting products with beer styles promote flavor and can appeal to beer fans
Agrain's line is noteworthy for brewers and beer fans because it uses a range of beer styles and highlights those styles on pack. The tasting notes of Agrain's flours highlight the variations in flavor that are offered by using a light lager such as a pilsner versus a darker beer like stout. Specific beer styles in spent grain products can connect with beer drinkers, especially fans of certain styles such as the popular hoppy IPA.
Brewers can make their own products or collaborate with other companies to create baking ingredients with spent grains from particular beer styles or potentially even specific beer brands. For example, Agrain's salty snack is made with Bombay IPA from Copenhagen's Nørrebro Brewery. The link to a specific beer brand could connect with fans of that brand. It also shows the potential to make a variety of spent grain products from the signature flavors of certain beers.
Identifying the style of beer provides flavor cues that connect with beer drinkers
The flavors offered by certain styles of beer, such as pilsners, IPAs or stouts, can be used to impart flavors into snacks, baked goods and other spent grain-based products.
Plzensky Prazdroj & Biopedkarna Zemanka Salted Beer Crackers are made with 21% Pilsner brewer's grain (Czech Republic).
Darling Brew Bone Crusher Beer Grain Crisps are made with spent grain from Darling Brew's Bone Crusher Wit beer. The pack notes that its upcycling of spent grains helps to offset the brewery's carbon footprint (South Africa).
Bonjour Eat My Brew Stout Bread is a sourdough bread made with brewer's grain from a rich stout. The bread also contains rye and a touch of cocoa for "roasted tastes of caramel with notes of coffee and chocolate" (Sweden).
The inherent nutrition of spent grains is a natural selling point
Another benefit of using spent grains is that they are high in minerals, protein and fiber. In particular, spent grains contain prebiotic fiber, an ingredient that can help with a health concern that's important during COVID-19: immune health.
Nutrition is a core asset of spent grains that is promoted by US company ReGrained. Its snack bars and snack puffs are made with ReGrained's SuperGrain+ ingredient.
The nutritional benefits of spent grains are also promoted by Agrain's parent company, Circular Food Technology. It says its spent grain ingredients can be used in "snacks, sports drinks, baked goods – really anywhere we can add fiber, protein, vitamins and taste."
The company sees spent grains as a sustainable solution to fill the forecasted global food deficit. As such, products made with spent grains can target both sustainability-focused and health-conscious consumers.
What Mintel thinks
The new crop of at-home bakers that emerged during the COVID-19 shutdowns presents the perfect audience for sustainable, flavorful and nutritious spent grain flours and baking ingredients. Brewers can connect in a new way with beer drinkers by promoting the flavor in spent grain flour that is made from specific beer styles or certain brands. Spent grain flour also is high in minerals, protein and fiber, which are advantages that can appeal to health-conscious home bakers.
Other news from the department business & finance
More news from our other portals