Machines according to EHEDG-guidelines
Robots are steadily taking over in the food industry, and that includes even sensitive work on unwrapped products. A word of caution, however: standard robots are completely unsuitable for production where microbiological contamination must be avoided. In such circumstances, machinery and equipment has to comply with EHEDG guidelines.
The European Hygienic Engineering and Design Group, an association of equipment manufacturers to the foodprocessing industry, food processing companies, research institutes and public health institutions, has been working on this issue for more than 25 years. EHEDG not only focuses on hygiene measures in the production and packaging of foodstuffs but also draws up appropriate guidelines.
Of particular interest to food producers is, of course, the question of how robot kinematics used in the food sector measure up to the criteria of design for hygiene. Fouraxis robots, articulated robots and delta kinematics – what are the arguments for or against their use in various applications?
White Paper classification
Applications
Product categories
Download white paper now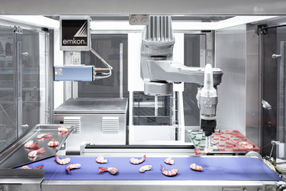 Robots Designed for Hygiene
Machines according to EHEDG-guidelines