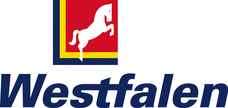 Profile
The Westfalen Group: Energy to take you further.

The Westfalen Group is an energy sector technology company operating with a total of 23 subsidiaries and associates in Germany, Belgium, France, the Netherlands, Austria, Poland, Switzerland and the Czech Republic. The family business, founded in 1923, has over 20 production sites located across Europe and is headquartered in Münster. Its business sectors are gases, energy supply and service stations. With about 1,700 employees, the Westfalen Group posted sales of approximately 1.7 billion euro in the 2015 financial year.

The Gases division produces and distributes some 300 gases and gas mixtures for almost every application in industry and trade, food and beverage production, laboratories, pharmaceuticals and medicine. These include, in particular, the atmospheric gases nitrogen, oxygen and argon, manufactured at air separation plants in Hörstel (near Osnabrück), Laichingen (near Ulm) and Le Creusot (near Lyon in France) as well as acetylene and hydrogen. Carbon dioxide (CO2) and helium are also becoming more important. Refrigerants and heat transfer fluids for cooling and air conditioning technology complete the versatile product range.

Protadur® is the product and system range for the food industry. In the vast food production sector our gases and gas mixtures ensure longer shelf lives, appetising appearance and smooth production processes. Our gases all have one thing in common - you can rely on them completely to meet the highest of safety standards. All Protadur® gases meet the required specifications, EU regulations and industry-specific requirements along the entire supply chain. The unbroken traceability of Protadur® food-grade gases is guaranteed at all times.

Under its Westfalengas brand within the Energy Supply division, the Westfalen Group ranks among the leading suppliers of liquefied gas in Germany. Westfalengas is suitable for over 2,000 applications: As off-grid thermal power (also in combination with solar thermal systems from its own distribution program), for heating workshops and agricultural buildings, for thermal industrial and commercial processes and as alternative energy for cars (LPG). In addition the Energy Supply division has started to supply natural gas and electricity. This means that the Westfalen Group can target private customers as well as companies.

The Service Station division, with 260 Westfalen and Markant stations, gives the group the largest network of independent branded stations in the country - predominantly in North Rhine-Westphalia and Lower Saxony. As well as Westfalen, the Münster-based company also owns the Markant service station network. A good 100 of the Westfalen and Markant service stations also supply LPG and achieve way above average sales for Germany. The Westfalen Service Card, a fuel card for companies with vehicle fleets, is accepted as cashless payment at around 5,500 service stations (Westfalen, Agip, Aral, Avia, Markant, OMV and Total) throughout Germany.
Products
Product portfolio
B

eer gases

C

arbon dioxide
carbonic acids

F

ood additives
food grade gases

G

as cylinders
gases

H

igh purity gases

I

nert gases

N

itrogen

P

ropane
pure gases

S

pecialty gases

T

echnical gases