Food from air with a new process
Power-to-x solution and pilot equipment by LUT and VTT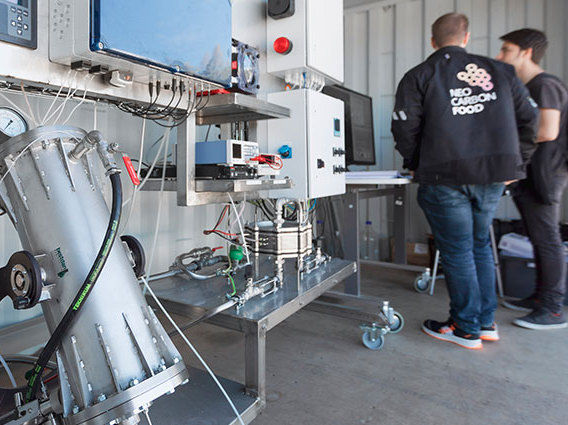 LUT and VTT verified the possibility to produce single-cell protein with electricity and carbon dioxide in 2017 in their joint research project Neo-Carbon Energy. LUT and VTT have continued this research in the project Neo-Carbon Food, which launched protein production with a new process. The research has already resulted in the establishment of a Finnish startup company called Solar Foods, which develops its own protein production.

"We have developed a production process where carbon dioxide captured from the air and water is used to produce hydrogen and oxygen in integrated water electrolysis to grow microbes with a high protein content. Emission-free solar or wind power could be used as energy sources for the process," explains Jero Ahola, Professor of Energy Efficiency in Electrically Driven Systems at LUT.
The carbon dioxide required for the bioprocess is taken directly from the air. We're the first in the world to do so. Jero Ahola, Professor
"We are taking the carbon dioxide required for the bioprocess directly from the air. As far as I know, we're the first in the world to do so. The water we need can also be obtained in connection with the direct air capture (DAC)," Ahola elaborates.
The basic idea of P2X is to transform electricity into another form of energy – and if need be, back to electricity. P2X technology could also be used in solving the massive challenges involving the environmental load of agriculture.
"Tackling sustainability issues requires new solutions in all sectors of society. Transport and industry are further along in their P2X processes, but there is an equal need for emission-free solutions in food production. The process we have developed is one response to this," Ahola says.
Production without land use and from raw materials with unlimited availability
Nearly all raw materials for protein produced in a closed microbiological process are obtained from the air, and contrary to conventional agriculture, the production does not generate runoffs into water systems or strong greenhouse gas emissions.
"A sufficient amount of nutrients resembling fertilizers are simply fed into a bioreactor, where they remain in a closed cycle. In practice, the scaling of production depends on the size or number of the bioreactors," outlines VTT's Michael Lienemann, Research Scientist, Bioprocess Engineering.
The process combines VTT's expertise in DAC methods, microbiology and flow module design, and LUT's expertise in electricity-based hydrogen production, process automation and energy efficiency. The equipment for the production process can be set up in, for instance, a freight container and transported to wherever renewable energy is available.
The costs of emission-free electricity, such as solar electricity, have decreased radically in the 2010s, which reduces the production costs of this P2X solution and others.
"Similar processes can reduce carbon dioxide emissions from human activities also in other sectors. Fossil oil and natural gas in, for instance, the production of raw materials for plastics can be replaced with similar bacteria and processes," Lienemann states.
Other news from the department science
More news from our other portals