Weber Ultrasonics Weld & Cut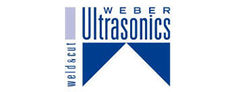 Weber Ultrasonics Weld & Cut GmbH
About Weber Ultrasonics Weld & Cut
The tailored solutions for our customers and our broad portfolio of flexible and successful applications are built on more than 40 years of ultrasonic expertise. The result are solutions, which offer you advantages in processing thermoplastics through minimised idle times, tailor-made design and a high degree of user-friendliness, thus optimising your competitiveness.

Our parent company, Weber Ultrasonics GmbH, has earned an outstanding reputation worldwide since its foundation in 1998. Today, the name Weber is a byword all over the world over for exceptional attention to quality and impressive innovations in the areas of ultrasonic cleaning and welding, as well as special applications such as environmental technology.

Weber Ultrasonics weld & cut GmbH, founded in 2009, exploits this potential to maximum effect in test labs, design, manufacturing, assembly and service, supplementing it with special application knowledge in the areas of plastic welding, nonwovens processing and in the packaging sector. This forms the basis of our international pool of competence, thus guaranteeing you practical and highly economical solutions.

Regardless of which project phase we're in, whether we're planning, developing, constructing or installing for you – Weber Ultrasonics weld & cut is your reliable partner. We understand your application requirements and support you professionally with the suitable welding technology for the application solution.
Facts about Weber Ultrasonics Weld & Cut
Facts about Weber Ultrasonics Weld & Cut
Focus : Manufacturer
Industry : Other
Products from Weber Ultrasonics Weld & Cut
Product portfolio
Ultrasonic cleaning systems
Ultrasonic cutting devices
Here you will find Weber Ultrasonics Weld & Cut GmbH