easyFairs Switzerland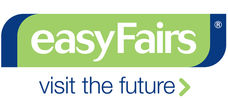 easyFairs Switzerland GmbH
About easyFairs Switzerland
easyFairs makes it easy for professional communities to experience innovation, discover market trends and do business face-to-face and online.

With headquarters in Brussels and an international network of offices, easyFairs runs shows in Austria, Belgium, Canada, Colombia, Finland, Germany, The Netherlands, Norway, Poland, Russia, Singapore, Spain, Sweden, Switzerland and the United Kingdom.

The easyFairs concept is simple. First, we deliver a great visitor experience. Our shows are specially designed to meet the needs of professional communities in key sector and geographical markets. Second, we simplify the business of exhibiting by providing all-in packages to exhibitors.

In this way we provide opportunities for all kinds of companies, from sector leaders to innovators and start-ups, with packaged solutions tailored for all categories of exhibitor.

easyFairs also gives international exhibitors an affordable opportunity to explore new markets, typically working through a sales representative in their own country and in their own language.

With our Online365 offer and the easyFairs Product Directory, buyers can source solutions and meet suppliers all year round.

Discover the "next big thing" in your sector – visit the future of your business at an easyFairs show near you.
Facts about easyFairs Switzerland
Facts about easyFairs Switzerland
Here you will find easyFairs Switzerland GmbH
1