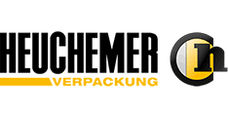 Heuchemer Verpackung GmbH & Co. KG
PASSION.PACKAGING.

About Heuchemer Verpackung
As a modern, solution-oriented company in the packaging industry, we don't just define ourselves through the processing of various materials with which brands and products are packaged. Numerous patents, own brands and awards from nearly 100 years of company history are the result of our innovation, vigour and competence.
Facts about Heuchemer Verpackung
Facts about Heuchemer Verpackung
Founding: 1920
Focus : Manufacturer
Employees: 201-500
Industry : Packaging
Certifications
Certifications
DIN EN ISO 9001
DIN EN ISO 50001
HACCP (CAC/RCP 1-1969, Rev. 4)
Product portfolio of Heuchemer Verpackung
Here you will find Heuchemer Verpackung GmbH & Co. KG