Corona: The world's first global beverage brand with a Net Zero Plastic Footprint
Another step towards the brand's long-term goal of leaving no plastic in nature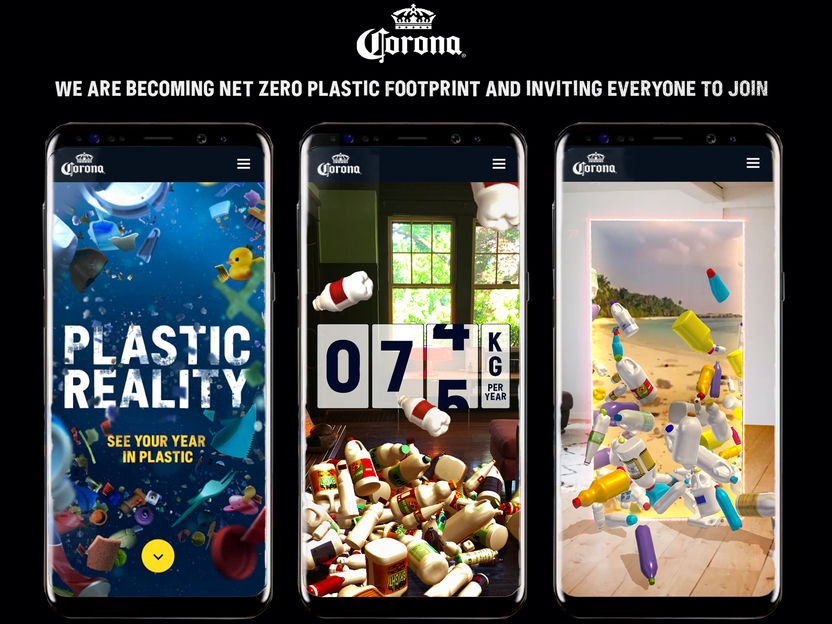 Anheuser-Busch InBev Deutschland
The achievement of this milestone is the result of a comprehensive external assessment of the brand's global operations against the 3RI Corporate Plastic Stewardship Guidelines by South Pole, a leading climate solutions provider. The assessment measured Corona's remaining plastic consumption across all of the brand's products and distribution logistics processes. In addition, the Verra Plastic Waste Reduction Standard was used to calculate the impact of climate action by the beer brand, including a major investment in Mexico Recicla, a recycling facility in Mexico. Thanks to these measures, Corona now recovers more plastic than the company generates in plastic waste.
"As a brand born on the beach and deeply connected to nature, Corona has a responsibility to do all it can to be an ally to our environment and our oceans," said Felipe Ambra, Global Vice President of Marketing at Corona. "Becoming the first global beverage brand with a Net Zero Plastic Footprint is the latest step in our quest to protect the world's oceans and beaches from plastic pollution. But we can't do it alone. That's why the Corona brand has developed "Plastic Reality," an augmented reality experience that allows people to determine their annual plastic footprint in their own homes. Seeing an entire year's worth of plastic consumption in your own living room is truly eye-opening and will hopefully inspire people to reduce their personal plastic consumption and the impact it has on the environment."
Users of Plastic Reality receive an estimate of their annual plastic footprint after answering some basic questions about their consumption habits. That footprint is then visualized through colorful AR plastic pieces that wash over the user's physical world like seawater washing ashore. From there, "Plastic Reality" opens a virtual portal to a polluted beach paradise, showing how plastic affects nature and asking users to take action to reduce their plastic footprint.
"The Corona brand sets a high standard for the industry. Their ongoing efforts to transform their products will gradually eliminate unneeded plastic. The investment in Mexico Recicla goes far beyond what is required to reduce their current plastic footprint. We congratulate Corona for reducing plastic consumption and strengthening the collection and recycling infrastructure in Mexico, without which the vision of a circular economy would not be possible," said Irene Hofmeijer, Senior Managing Consultant for Plastics at South Pole.
"Corona's Net Zero Plastic achievement is another step in the brand's long-term journey to completely eliminate its plastic footprint." The Corona Plastic-Free Challenge seeks passionate entrepreneurs from around the world to help Corona find new ideas or technologies that can reduce or eliminate more plastic from its supply chain. In addition, Corona is investing in redesigning its core products. For example, 100 percent of Corona's export volume for cans will be free of plastic rings by the end of the year.
"We welcome this first major step by Corona to completely remove plastic from their supply chain," said Richard Hill, CEO of Ocean Generation. "This Net Zero Plastic accreditation demonstrates that Corona recognizes the plastic footprint their products leave on the planet and is taking a number of important steps to curb it. We look forward to working with Corona to achieve their ultimate goal of leaving no plastic in nature."
This effort builds on Corona's long-standing commitment to protect the world's oceans and beaches from plastic pollution. To date, Corona has conducted more than 1,400 clean-ups, involving more than 68,000 volunteers and collecting plastic trash from more than 44 million square feet of beach.
Note: This article has been translated using a computer system without human intervention. LUMITOS offers these automatic translations to present a wider range of current news. Since this article has been translated with automatic translation, it is possible that it contains errors in vocabulary, syntax or grammar. The original article in German can be found here.
Other news from the department business & finance
More news from our other portals