Leak detection of coffee capsules, pouches and trays
Securing the promise of minimum durability date (MDD) with Contura
Many food packages can be tested rapidly and reliably with leak detection using the fast, precise and process-compatible pressure rise method in the flexible chamber.
As a result, leaking packaging have no chance to reach the market – and food manufacturers keep the quality promise they have made in the form of the best before date.
The leak detector also provides them with the certainty required to label their products with an extended MDD.
This pays off and generates new business opportunities, for example by opening up markets that require longer transport times.
Download white paper now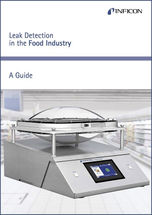 Shelf life - How food manufacturers keep their promise of quality
Leak detection of coffee capsules, pouches and trays