Biohacking with chewing gum
Clevergum revolutionizes the dietary supplement market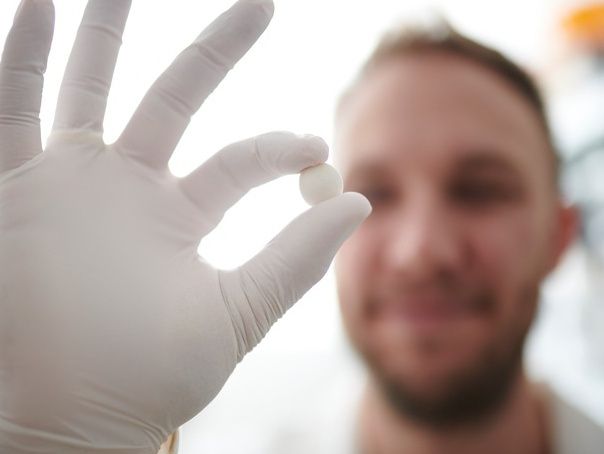 Clevergum GmbH / Marc Oeder
Top soccer players in the German Bundesliga have tested the Performancegum Pro prototype in recent months. This chewing gum has also already been used by selected national players during the World Cup.
Djibril Sow, midfielder for Bundesliga club Eintracht Frankfurt: "We've been using Performancegum Pro in the team for a year now and it's become part of our routine for more presence and power on the pitch! What's brilliant is that every pro feels the effect after just a few minutes and it doesn't put a strain on the digestive tract."
Top soccer player Rani Khedira, midfielder at 1. FC Union Berlin , is also enthusiastic about the chewing gum novelty: "Performancegum Pro is a super idea, as there is no product of this kind in professional sports so far, and you feel a clear boost in power and focus very quickly and in doses!"
Prof. Dr. med. Florian Pfab, sports and nutrition physician: "Particularly before competitions, chewing gum as a supplier of active ingredients brings enormous advantages, as the effect can be planned much more quickly and the individual dosage of active ingredients can also be planned much more easily. In addition, as a sports physician, I often observe how professional athletes find it difficult to take in food before or during a competition, or even to keep it down. Clevergums can give the body what it needs in that particular situation without stressing the stomach. Simple, smart chewing - just when you need it."
The chewing gums, which are subject to strict quality criteria and independent controls, were developed by Prof. Dr. med. Pfab specifically for professional athletes, among others. All ingredients used in Clevergums are evidence-based and permitted in professional sports.
Concentrationgum was developed for mental challenges such as in e-sports, where high and long-lasting concentration and focus as well as hand-eye coordination are particularly important. Professional e-sports players such as FIFA player Fabio "Fifabio97" Sabbagh from SV Werder Bremen, record champions in the virtual Bundesliga, therefore deal intensively with the topic of performance enhancement on the console or PC: "In addition to in-game training, the topics of exercise, nutrition and mental skills also play an extremely important role. When playing games, we have to remain highly concentrated over a long period of time. The Concentrationgum does an excellent job of that. In addition, the chewing gum has a decisive advantage over conventional wake-up devices: while it makes you wide awake and focused, it doesn't make you jittery when dosed correctly, plus it's calorie-free and much healthier."
All Clevergum chewing gums are GMO-free, gluten-free, vegan and contain birch sugar (bactericidal xylitol), which has been shown to have a tooth-care effect.
The absorption of the active ingredients via the oral mucosa offers two decisive advantages: First, the ability to bypass the loss of active ingredients in the gastrointestinal tract; and second, the ability to achieve an almost immediate onset of action. This is related to the cheek and oral mucosa being well permeable and heavily vascularized. Possible side effects due to too much substance in the stomach are thus reduced, and the active ingredients can take effect quickly.
Note: This article has been translated using a computer system without human intervention. LUMITOS offers these automatic translations to present a wider range of current news. Since this article has been translated with automatic translation, it is possible that it contains errors in vocabulary, syntax or grammar. The original article in German can be found here.
Other news from the department research and development
More news from our other portals
Something is happening in the food & beverage industry ...
This is what true pioneering spirit looks like: Plenty of innovative start-ups are bringing fresh ideas, lifeblood and entrepreneurial spirit to change tomorrow's world for the better. Immerse yourself in the world of these young companies and take the opportunity to get in touch with the founders.