Plant-based, organic, regional - the diet of the future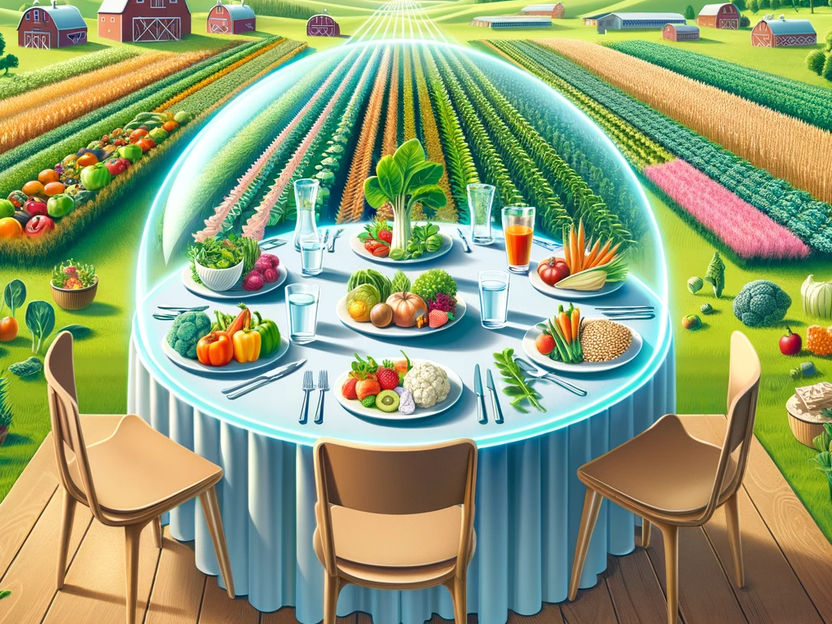 computer generated picture
"The three strategies - plant-based nutrition, organic farming and regional production - must be very well interlinked in order to exploit synergies and avoid conflicting objectives," emphasizes Gerolf Hanke, project manager and expert on sustainable nutrition at the Öko-Institut. "We propose measures and policy instruments that can be incorporated into the German government's nutrition strategy, which is on the agenda of the Federal Ministry of Food and Agriculture this year."

Strategy 1: plant-based nutrition
Promoting a more plant-based diet is the most effective lever for making our diet more sustainable. If we eat more fruit, vegetables, pulses and nuts and fewer animal products, the animal population can be reduced, which has a positive impact on the environment, climate and biodiversity. This diet is also healthier than the current diet in Germany and helps to secure the food supply for a growing world population.
"Political measures can help us to put more vegetables and plant-based food on our plates instead of animal-based food," says Julia Jägle, Research Associate at Ecologic Institute. "To make it as easy as possible for consumers to choose plant-based foods and dishes, we need, for example, attractive offers in retail and communal catering as well as a reduced VAT rate for all plant-based foods."
Company training and further education should also be designed in such a way that chefs and other specialist staff can provide attractive food and food offerings with more vegetables, nuts or pulses. The research team also proposes establishing a non-profit organization to strengthen plant-based nutrition and ensure networking between all stakeholders.

Strategy 2: Organic farming and food
Organic farming has a beneficial effect on soil, water, biodiversity and climate. Strengthening the organic cultivation of food and improving the productivity of organic farming at the same time therefore contributes directly to sustainable nutrition.
"For this reason, the organic food industry should continue to be consistently promoted and research activities should focus on improving its environmental performance, for example in terms of soil and plant health or animal welfare," emphasizes Friedhelm von Mering, Policy Officer at the German Federation of Organic Food Producers.
In addition to agriculture, food processing must also be taken into account. However, the project team also proposes other measures, such as a training offensive for organic farming, knowledge transfer to practitioners, more organic food in communal catering and the further development of breeding strategies for plants and animals.

Strategy 3: regional value chains
Short value chains for food are another strategy for a sustainable food system. This makes cultivation more fragmented and diverse, keeps the added value in the region and creates trust and appreciation for local food production. Last but not least, crisis security increases through a more balanced relationship between regional and supra-regional structures.
Political support for regional value chains should not be provided across the board, but should be linked to ecological or social conditions. These could be the preservation of old varieties or animal breeds as well as organic production or the maintenance of cultural landscapes.
The scientists propose the following measures, among others: a rescue programme for regional food processing companies such as bakeries or dairies with targeted support and a reduction in bureaucracy, as well as the nationwide establishment and funding of networking centers for the development of regional value chains.
Note: This article has been translated using a computer system without human intervention. LUMITOS offers these automatic translations to present a wider range of current news. Since this article has been translated with automatic translation, it is possible that it contains errors in vocabulary, syntax or grammar. The original article in German can be found here.
Other news from the department science
More news from our other portals