Traceable recipe formulation
Formulation is the preparation of a substance, undertaken by the putting together of all the component materials in the correct proportion in accordance with a specific recipe, or formula. Formulation is a relatively common procedure in industries such as pharmaceuticals, cosmetics, chemicals and food.

When we walk down the aisle in the grocery store, we invariably discover new products on the shelf. Whilst the attractive packaging is often what first attracts our attention, it is the aroma and taste of the product which makes us return again and again. A successful food product is the result of a long line of trial and error in the food development process. A slight tweak of the starch concentration in the formulation, or the addition or subtraction of a seemingly insignificant ingredient can affect the sensory experience completely. During product development in the food industry, scientists may prepare many prototypes for evaluation in order to select the right formulation to meet the product brief. Handling long lists of ingredients and ensuring that each formulation has been carried out precisely can be a challenge.

This whitepaper describes how recipe formulation in the food industry can be accurately and efficiently undertaken using a simple combination of application solutions.
White Paper classification
Applications
Product categories
Download white paper now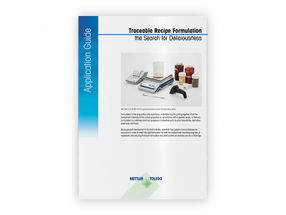 The search for deliciousness
Traceable recipe formulation
You may also be interested in these white papers