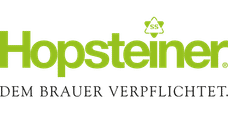 Simon H. Steiner, Hopfen, GmbH
The Proof is in the Pour!

About Hopsteiner
Our company, which started in 1845 as a small hops dealership, is today one of the largest international hop growing, trading and processing firms. The success of the Steiner group is largely due to our continuity as a family-owned and run business, and to the hard work and innovation of present and past management and employees. In over 170 years of activity the efforts of our management and employees have endowed us with a depth of tradition, experience and achievement that gives our customers the knowledge that Steiner will be there for them and all of their hops-related needs.
Facts about Hopsteiner
Facts about Hopsteiner
Founding: 1845
Focus : Manufacturer
Employees: 201-500
Industry : Beverages
Certifications
Certifications
ISO 9001
TÜV Süd
Trusted Shops
Product portfolio of Hopsteiner
Here you will find Simon H. Steiner, Hopfen, GmbH