Verified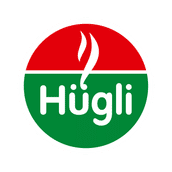 Hügli Nährmittel AG
Hügli Food Industry - Taste giving competence!

About Hügli Nährmittel
Hügli Nährmittel AG is an international food company specialising in the production and distribution of soups, sauces, bouillons, seasonings, functional foods, desserts, ready meals, delicatessen specialities, snack seasonings and flavours. Hügli was founded in Switzerland in 1935 and has since been characterised by an employee-oriented corporate culture. Since 2018, Hügli has been a business unit of the Bell Food Group, which is listed on the Swiss stock exchange.

The core competence of the Food Industry business unit lies in the development and production of spice mixtures and compounds for the food processing industry, from the idea to the filling and logistics of the finished goods - whether spicy, sweet, neutral, in powder or liquid form.

Our extensive packaging options, from BigBags to portion bags, allow us to add value to your needs.

Are you a snack producer looking for a trendy spice blend, are you a producer of soups, sauces or ready-made salads looking for that certain something, or do you still need a functional spice blend for your meat preparation? Then we are exactly the right partner for you!
Note: This article has been translated using a computer system without human intervention. LUMITOS offers these automatic translations to present a wider range of company presentation. Since this article has been translated with automatic translation, it is possible that it contains errors in vocabulary, syntax or grammar. The original article in German can be found here.
Facts about Hügli Nährmittel
Facts about Hügli Nährmittel
Founding: 1935
Focus : Manufacturer
Employees: 1001-5,000
Industry : Food
Certifications
Certifications
Eco Bio
Eco Bio Suisse
BCS Bio ÖkoCO2 Umwelt-Zertifikat
Ekokom
Kosher certification
IFS Food Version 7
Soil Association Oganic Sandards
BRC Global Standard for Food Safety
Halal Certification
CO2&kWH reduziert
ASDA Compliance
Certified Sustainable Palm Oil
Hügli Nährmittel Products in the Spotlight
Product portfolio of Hügli Nährmittel
News about Hügli Nährmittel
Here you will find Hügli Nährmittel AG