GUAMPA Energy | Ferdinand Kreutzer Sabamühle GmbH
Refreshing Energy Drink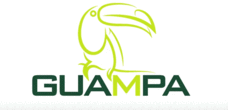 Profile
We are part of a traditional Nuremberg family business that has ventured into a completely new project with a young team and our long-standing partner RealStevia™

GUAMPA Refreshing Energy is an energy drink without the addition of taurine and sugar for a refreshing, new taste sweetened exclusively with RealStevia™ from Paraguay.

With every can sold, we donate 1 cent to a foundation that helps local small farmers to sustainably grow stevia.
Founder

Fabian Frank


Christine Frank

Innovation
Vision
A new generation of energy drinks
Innovation
We are very proud to have created a delicious, sugar-free and sustainable alternative to the typical energy drinks with GUAMPA Refreshing Energy together with our partners!