Vegetable steaks from pea protein
31-Mar-2022
-
Switzerland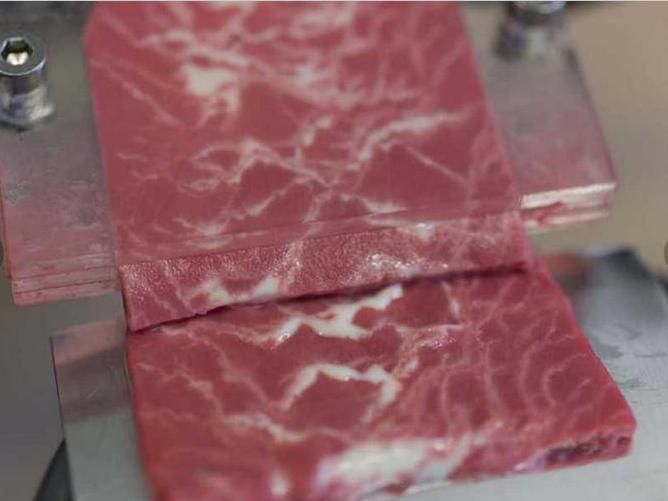 ETH Zürich / Martin Hofmann
Whether it's sausages made from tofu, burgers made from fermented mushrooms or chicken made from pea protein, meat substitutes are becoming increasingly popular and it's hard to imagine local supermarkets without them. But what has been missing from the range so far are plant-based alternatives for high-quality meat products such as steaks.
If Martin Hofmann has his way, this will soon change. The materials scientist has developed a process that can be used to produce vegetable steaks from pea protein and fat. He is primarily targeting people who, like himself, are not vegetarians but want to reduce their meat consumption and eat a plant-based diet more often.
"I want to help bring a healthy, environmentally friendly and animal-friendly substitute product for high-quality meat to the market that is as close as possible in taste to the animal original," says the ETH researcher.
The kitchen as the first laboratory
Martin Hofmann was almost born into the natural sciences. His mother is a biochemist, his father a botanist and his sister works as a geologist. Scientific experiments were as commonplace in the Hofmann household as board games or soccer in other families. "After all, every kitchen is nothing more than a small laboratory," says the ETH researcher.
Hofmann is studying chemistry and materials science at EPFL and is coming to ETH Professor Jan Vermant's Chair of Soft Materials for his doctorate. There he studies the flow properties and mixing behavior of emulsions. Hofmann shows that it is possible to control very thin layers of oil and water flowing past each other so well that an emulsion with a regular structure results. He quickly realizes that this method can also be used to artificially imitate the texture of meat.
From beef to pea protein
The tender feeling in the mouth, the juicy taste and the pink hue: two things make biting into a steak so unique: the fibrous structure of the meat and the distribution of the fatty tissue, also called marbling. "Nature took a long time in developing a beef muscle. Replicating that requires a whole lot of research," Hofmann says.
Only by managing to biochemically replicate the protein structure of meat will the plant-based alternative feel like meat. For his plant-based steaks, Hofmann therefore uses a range of flavors and spices as well as a pea protein whose structure he approximates to its animal counterpart in the lab. To imitate the fibrous structure of meat, the protein mass is pressed under pressure into a specially designed attachment and enriched with chopped carrot, pea and wheat fibers, as well as some water and oil.
In Hofmann's vegetable alternative, the fatty tissue characteristic of steaks consists of a simple emulsion of water and oil, into which additives such as vitamins and trace elements can be integrated. Since the fat content of the emulsion can also be greatly reduced, the plant-based steak is not only more environmentally friendly, but also healthier than the animal-based original.
Chaotic fat fibers
Marbling is an important quality characteristic of steaks. If it is very pronounced - as in Japanese Kobe beef, for example - the meat is considered to be of particularly high quality. Artificially producing marbling, however, is anything but simple.
"You have to recreate something that has no regularity at all. Because if we look at one half of a steak, we simply can't deduce what the second half looks like," Hofmann explains. Only products that take this randomness of nature into account can mimic the unique taste and mouthfeel of a steak.
"I want to make it a tiny bit easier for people to avoid cheap meat from factory farming."
Martin Hofmann
Drawing on his research into the mixing behavior of soft materials, Hofmann is developing a process in which the pea protein and fat flow into each other in a way that results in the marbling typical of high-quality meat. "Advective processing" is what he calls this method, which, unlike common 3D printing methods, continuously presses the protein mass and the fat into an attachment, mixing them in the process.
He combines two components to achieve this: The hardware, consisting of two extrusion nozzles for the pea protein and one nozzle for the fat. And software programmed by Hofmann himself that controls how the two substances are mixed.
Note: This article has been translated using a computer system without human intervention. LUMITOS offers these automatic translations to present a wider range of current news. Since this article has been translated with automatic translation, it is possible that it contains errors in vocabulary, syntax or grammar. The original article in German can be found here.
Other news from the department research and development
More news from our other portals