The importance of snacks for the eating habits of consumers is growing
Millennials and Gen Z in particular go for sustainable snacks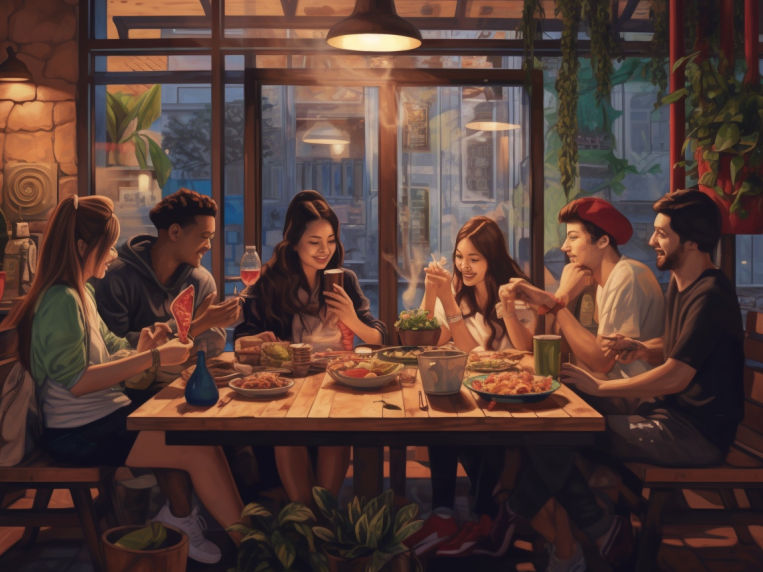 Computer generated picture
This year's report shows that in our increasingly fast-paced world, snacking is particularly popular as a conscious break. So-called "mindful snacking" decelerates and connects people. More than three quarters of those surveyed (68 percent) consciously take time to snack mindfully. They like to do this together with their loved ones: one in two (56 percent) enjoys a snack at least once a week together with family, partners or roommates. These snacking moments are playing an increasingly important role, as three out of four consumers (75 percent) confirm: "Today, it is more important than ever to incorporate moments of enjoyment into everyday life."
Overall, the relevance of snacking continues to grow: 61 percent of people in Germany already eat a snack at least twice a day. People snack primarily to reward and indulge themselves (81 percent) or to feel good (76 percent). In addition, more than half of respondents (55 percent) say they are looking for environmentally responsible snacks, especially Millennials [1] (70 percent) and Gen Z [2] (67 percent).
"The results of the new 'State of Snacking(TM)' study show that our consumers* are increasingly conscious about snacking," said Livia Kolmitz, Head of Corporate Communications DACH at Mondelez International, summarizing the findings. "Snacks fulfill a more far-reaching meaning than pure food intake or pure enjoyment. They can decelerate, connect people and make us feel good - especially if they are sustainably produced. With our strategy 'Snacking Made Right', we are starting exactly there and offer our consumers* the right snack, for the right moment, made in the right way with our brands like Milka, Philadelphia, TUC or OREO."
Exciting findings of the study are:
Mindful Snacking: More than three-quarters of consumers* (68 percent) consciously take time for mindful snacking. 51 percent say they take time to portion snacks before eating them, especially Gen Z (67 percent). Forty-nine percent also say they check the nutritional information on snacks before buying and feel more informed as a result (53 percent). When it comes to their own enjoyment, the top reasons for snacking are: to reward or indulge themselves (81 percent) and to feel good (76 percent).
Snacks as a way to connect: Our world is becoming increasingly digital. Snacking provides opportunities and occasions to physically meet and have a good time together. More than half (56 percent) say their household gets together at least once a week to enjoy a snack together. Snacks are also a common gesture of bonding: one in two in Germany (50 percent) think personalized snacks make a great gift, especially Millennials (65 percent).
Growing appetite for sustainable products: When it comes to snacks, consumers are increasingly opting for sustainable products: Consumers are aware of the impact of their shopping behavior on the environment. More than half (55 percent) are looking for environmentally friendly snacks, especially Gen Z (67 percent). The focus is on packaging, with 60 percent saying that "sustainable packaging helps them enjoy their snack more." Three in four say they prefer snacks with less plastic packaging (74 percent).
[1] Generation born in the early 1980s to mid-1990s.
[2] Generation born in the mid-1990s to early 2010s.
The market research institute The Harris Poll conducted a representative online survey on behalf of Mondelez International from September 18 to October 17, 2022, among 3,530 respondents aged 18 and older in 12 countries, including 255 participants in Germany.
Note: This article has been translated using a computer system without human intervention. LUMITOS offers these automatic translations to present a wider range of current news. Since this article has been translated with automatic translation, it is possible that it contains errors in vocabulary, syntax or grammar. The original article in German can be found here.
Other news from the department business & finance
More news from our other portals