Discover our Microbial and Chemical Testing Solutions for the Food & Beverage Industry
This special News on Food edition highlights the 2020 innovations in food and beverage safety testing in both microbial and chemical testing labs in the food industry.
Solutions that reduce time to result so you can make critical decisions faster – keeping us all safe from foodborne illnesses.
Safe solutions for food, feed and water.
For example, the Assurance® GDS system combines the latest advancements in molecular detection technology and food microbiology to provide faster results with the increased accuracy required to meet today's food and environmental testing challenges.
Or for chemical analysis in food safety testing, you can extend the range of possibilities with over-coated SPME fibers.
Solid Phase Micro Extraction is an established sample preparation technique in many labs.
However, it has not been adequately explored for direct immersion analysis of complex food matrices – until now.
Discover this year's innovations in microbial and chemical testing solutions.
White Paper classification
Applications
solid-phase microextraction
Product categories
Download white paper now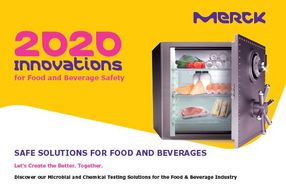 News on Food: 2020 Innovations for Food & Beverage Safety
Discover our Microbial and Chemical Testing Solutions for the Food & Beverage Industry
You may also be interested in these white papers