Relaunch at Pfanner: combidome carton bottle ensures differentiation on the fruit juice shelf
Premium manufacturer switches from gable-top carton to the carton bottle from SIG Combibloc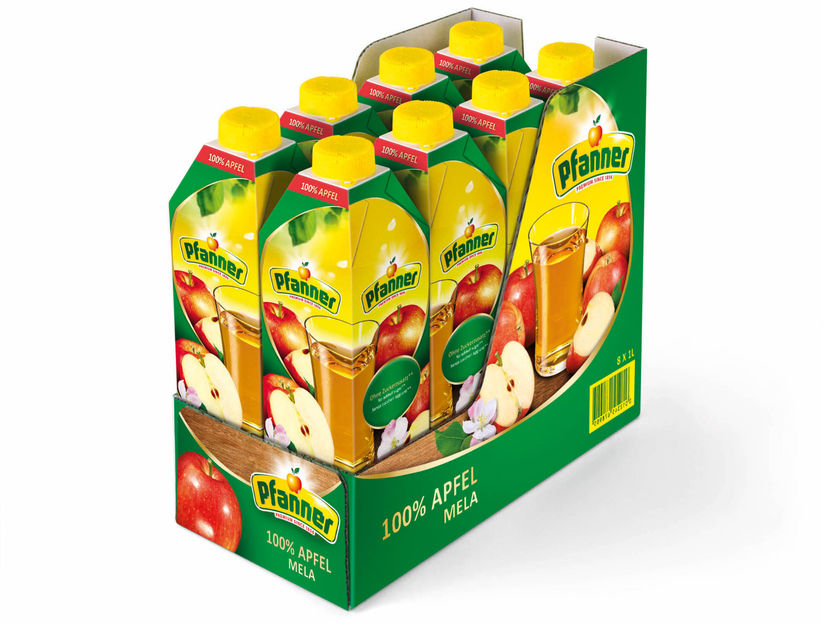 Hermann Pfanner Getränke GmbH
The overall performance of combidome has prompted Pfanner to start offering its fruit juices in the innovative carton bottle from SIG Combibloc. Peter Pfanner, Managing Partner of Hermann Pfanner Getränke GmbH: "Thanks to its shape, stability and smooth pouring action, combidome is easy to handle, like a bottle, while at the same time offering all the proven and unrivalled benefits of a carton pack in terms of product protection, environmental and economic considerations. combidome is the first carton bottle on the market from which you can also conveniently drink straight from the pack. With combidome, we'll be able to differentiate ourselves from our competitors in the market".
Market research commissioned by Pfanner in April confirms that the package, made from a composite material consisting around 75 per cent of wood, a renewable resource, is also attractive for consumers: 80 per cent of respondents found the new carton bottle more novel than a classic gable-top carton. In addition, 60 per cent of survey participants found combidome more convenient than previous packaging types.
Pfanner was also impressed by the new open display tray from SIG Combibloc, which was specially developed for tall, slim beverage cartons such as combidome. The design of the tray ensures carton packs are evenly stacked and safely protected during transport – and can later be attractively presented on the sales shelf and removed from the secondary packaging with ease. combidome thus also offers a harmonious overall selling concept.
Innerhofer lining up at the start
Alpine ski racer Christof Innerhofer is another fan of Pfanner fruit juices in combidome. The successful South Tyrolean is endorsing the Pfanner 1.0 litre juice range in the new packaging. In 2011, Innerhofer triumphed at the Super G world championship in Garmisch-Partenkirchen, and he won silver and bronze medals at the 2014 Winter Olympics in Sochi. Many other victories and podium places in the skiing world cup make him one of the most successful ski racers of the present day. In his free time, Innerhofer likes to spend time outdoors, and in addition to skiing his hobbies include cycling, fishing and trekking. When exercising out in the open air, staying hydrated is very important to him. With Pfanner fruit juices in the combidome cardboard bottle, he has it covered: even while on the move, he can conveniently drink straight from the pack, topping up on valuable vitamins that supplement a balanced diet.
SIG Combibloc is one of the world's leading system suppliers of carton packaging and filling machines for beverages and food. In 2015 the company achieved a turnover of 1,720 million Euro with around 5,000 employees.
Other news from the department research and development
More news from our other portals