Seeking to continue hot streak, Vizzy plans April launch of Vizzy Lemonade
2021 may well be the year of lemonade hard seltzer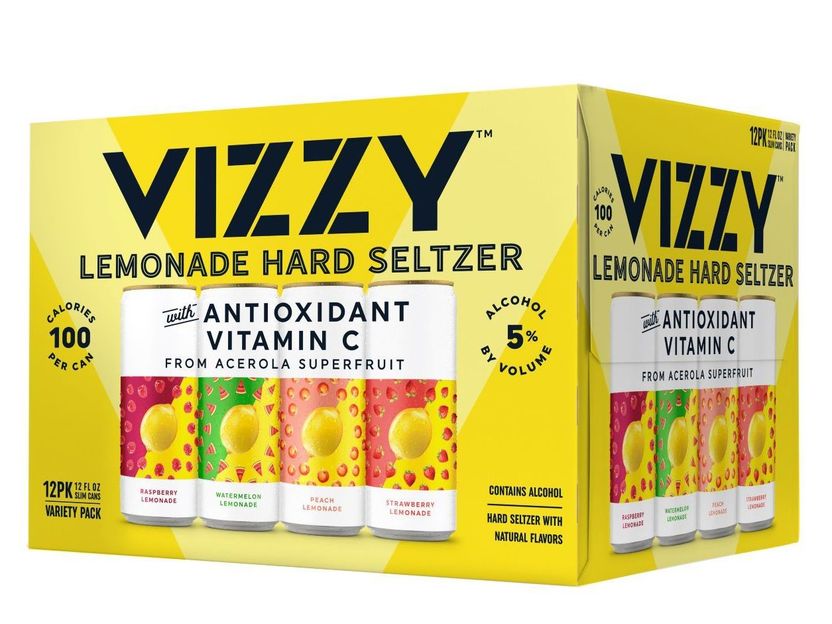 Vizzy Hard Seltzer, one of the fastest growing brands in the beer category, said today it is expanding into lemonade this spring and launching a second variety pack aiming to capitalize on its success in 2020.
The hard seltzer brand, which shot out of the gates upon its debut last year, finished 2020 as the No. 5 hard seltzer and the No. 5 new item in the entire beer category. It also has carved out a slot on Nielsen's Top 10 Growth Brands.
Now the brand has its sights set on lemonade, an emerging sub-segment of the seltzer space, with plans to launch Vizzy Lemonade in four flavors in April. Like its flagship hard seltzer, Vizzy Lemonade contains antioxidant vitamin C – the only lemonade hard seltzer that can make the claim.
"Lemonade and antioxidant vitamin C go hand-and-hand, and drinkers have been clamoring for a lemonade version of Vizzy," says Elizabeth Hitch, director of hard seltzers at Molson Coors. "Vizzy Lemonade is bright, bold and comes in four fun and unique dual-flavor mash-ups, and it will be available just in time to kick off spring."
The addition of Vizzy Lemonade will help the brand to continue to differentiate itself as a better-for-you option in the seltzer category. 
Like Vizzy's flagship hard seltzer, which is packaged in bright orange boxes designed to stand out on retail shelves, Vizzy Lemonade will come in bright yellow packaging. 
The gluten-free line will be sold in variety 12-packs featuring four flavors: Strawberry Lemonade, Peach Lemonade, Watermelon Lemonade and Raspberry Lemonade. Each 12-ounce can contains 100 calories and checks in at 5% alcohol by volume.
Vizzy Lemonade joins a slate of lemonade hard seltzers already in market or expected to hit retail shelves in 2021, including Truly Lemonade, Bud Light Hard Seltzer Lemonade, Mike's Hard Lemonade Seltzer and Crook & Marker Spiked Lemonade.
Vizzy also this spring plans to launch a second variety pack, featuring new flavors of its flagship hard seltzer. Those packs are slated to hit retail in March.
Other news from the department research and development
More news from our other portals