Start-up reduces methane in cattle
Volta Greentech partners with AFRY to build first seaweed factory aiming to reduce 80% of methane emissions from cows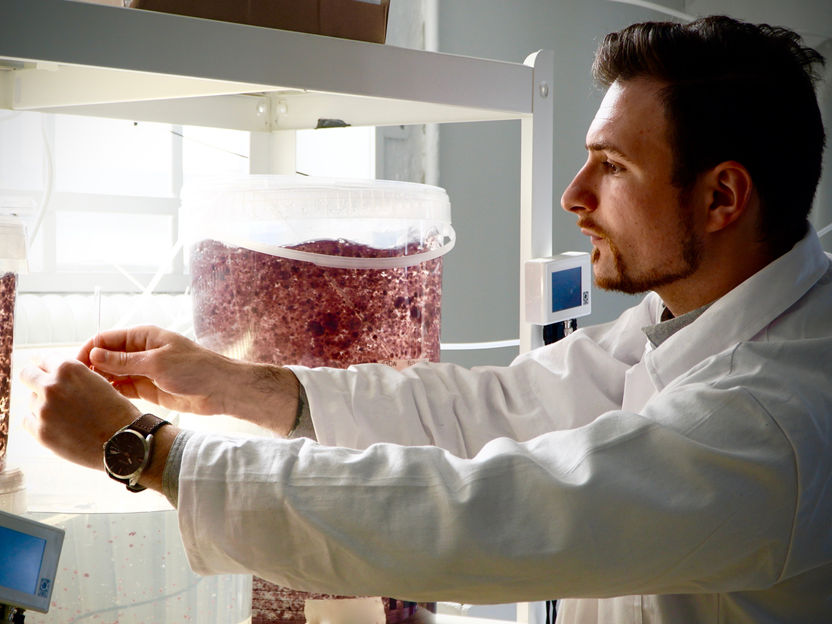 Volta Greentech, eine Ausgründung aus der Königlichen Technischen Hochschule http://kth.se/en , will Asparagopsis, wie die im Meer wachsende Rotalge wissenschaftlich genannt wird, in großen Mengen kultivieren. Das ist bisher nicht gelungen. Aus der Alge produziert das Unternehmen in einer Pilotanlage in Lysekil an der schwedischen Westküste einen Futterzusatz, der die Methanemissionen drastisch verringert. Die Rotalge enthält große Mengen bioaktiver Verbindungen, die ein Enzym blockieren, das von den methanproduzierenden Bakterien im Pansen der Rinder benötigt wird. So werden die Emissionen auf natürlichem Weg reduziert.
"In den letzten zehn Monaten haben wir uns darauf konzentriert, das Wachstum der Rotalge zu optimieren. Wir glauben, dass wir jetzt eine wirklich effektive Kultivierungstechnik gefunden haben", sagt Fredrik Kerman, CEO des Unternehmens. Es handelt sich um ein geschlossenes System, das eine kontinuierliche Produktion gewährleistet, unabhängig von Umweltfaktoren wie Wasserqualität und Wetter. An den nachgelagerten Prozessen wie Trocknen der Algen und deren Konfektionierung, etwa in Form eines Granulats, arbeiten die Mitarbeiter noch.
Molkereien und Einzelhandel gefordert
Bezahlen sollen das Futter letztlich die Molkereien und der Einzelhandel, so Kermans Vorstellung. Er ist sicher, dass das klappt. Es gebe einen großen Druck der Verbraucher auf eine Senkung der Treibhausgasemissionen in Schweden. Ein Test auf einer schwedischen Rinderfarm war bereits erfolgreich. Jetzt versucht das Unternehmen, die Produktion in der Pilotanlage hochzufahren, um weitere Versuche mit bis zu 1.000 Tieren machen zu können. Die Großanlage, die die 20-fache Kapazität haben soll, wird nach dem gleichen Bauplan errichtet, sodass negative Überraschungen wohl ausgeschlossen sind.
Other news from the department business & finance
More news from our other portals
Something is happening in the food & beverage industry ...
This is what true pioneering spirit looks like: Plenty of innovative start-ups are bringing fresh ideas, lifeblood and entrepreneurial spirit to change tomorrow's world for the better. Immerse yourself in the world of these young companies and take the opportunity to get in touch with the founders.