Frequent consumption of sugared drinks promotes obesity and fatty liver
Policymakers must provide more incentives for healthy eating
Excessive consumption of sugared drinks is unhealthy - this finding is not new. However, a recent study by the University of Zurich shows that even commercially available amounts of fruit and household sugar in soft drinks can double the body's own fat production in the liver. Over a longer period of time, this favors the development of diabetes and fatty liver disease. In view of the results, the German Alliance of Non-Communicable Diseases (DANK) calls on politicians to implement a comprehensive package of measures to finally consistently curb the consequences of an unhealthy diet.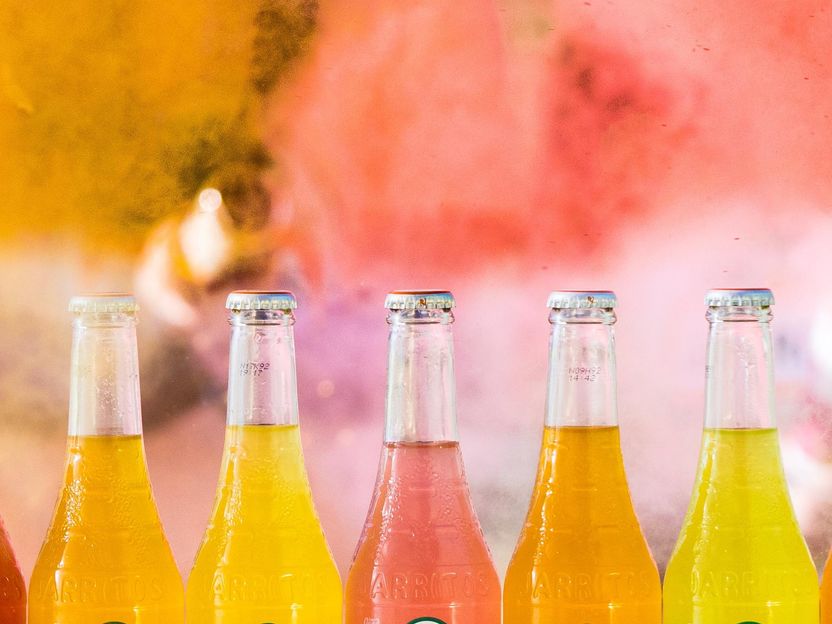 Photo by Jarritos Mexican Soda on Unsplash
As part of a balanced and healthy diet, the World Health Organization (WHO) recommends reducing daily sugar consumption to a maximum of 50 grams - or even better to 25 grams. The effects of regular consumption of sugared drinks on the body are shown by a recent study from Zurich. The researchers studied a total of 94 normal-weight young men with a body mass index (BMI) < 24, who consumed beverages sweetened with fruit, grape or table sugar for seven weeks. For the study, they thus consumed an additional 80 grams of sugar each day, on top of their normal diet. The control group did without any sugary drinks.

The result: participants in the fruit and table sugar group had twice as much endogenous fat production in the liver as participants in the control group. "We were particularly shocked that glucose, which is often declared healthy, caused such a significant increase in fat synthesis," says Professor Heiner Wedemeyer, MD, media spokesman for the German Society for Gastroenterology, Digestive and Metabolic Diseases. (DGVS). This is problematic because these fats are stored in the liver and lead to its fatty degeneration in the medium term. The consumption of foods high in sugar and fat stimulates and thus accelerates the development of obesity, type 2 diabetes, a fatty liver and other secondary diseases. "In Germany, almost one in three people already suffers from non-alcoholic fatty liver (NAFL). Estimates suggest that by 2030 the number of patients with fatty liver hepatitis (NASH) will rise to 4.7 million. Policymakers have a responsibility to take action to address this trend," Wedemeyer said.

Politics must set more incentives for healthy nutrition

"The Zurich study shows that 80 grams of sugar a day can cause serious health problems, but this is out of all proportion to reality. One litre of cola already contains more than 90 grams of sugar on average," says Barbara Bitzer, DANK spokesperson and executive director of the German Diabetes Society (DDG). "It is completely incomprehensible that Germany deliberately ignores these findings with consideration for the food industry and only relies on a voluntary sugar reduction." For the expert, it is clear that health interests must take precedence over the profit motives of manufacturers, but for this to happen, politicians must finally implement binding measures.

"In the UK, for example, a tax on drinks that exceed the limit of 5 grams of sugar per 100 ml succeeded in reducing the sugar content in soft drinks by an average of 34 percent within two years," explains Bitzer. The sugar purchased per household was also reduced by almost 10 percent in this way. "Such examples show that a soft drink tax based on the British model works," Bitzer continues.

The DANK science alliance is therefore advocating a comprehensive package of measures that would make food manufacturers more accountable and make it easier for everyone to eat and behave healthily. The comprehensive package of measures includes:

a removal of VAT on healthy foods and a tax increase on foods high in sugar, fat and salt
soft drinks that are particularly high in sugar should be taxed at 29 per cent
prohibit advertising of unhealthy foods and drinks to children
mandatory labelling of all foods with the effective Nutri-Score introduced last year
binding standards for day-care and school nutrition according to the guidelines of the German Nutrition Society (DGE)
at least one hour of exercise daily in school and kindergarten
Note: This article has been translated using a computer system without human intervention. LUMITOS offers these automatic translations to present a wider range of current news. Since this article has been translated with automatic translation, it is possible that it contains errors in vocabulary, syntax or grammar. The original article in German can be found here.
Other news from the department science
More news from our other portals