10 more years for glyphosate
What the agent is all about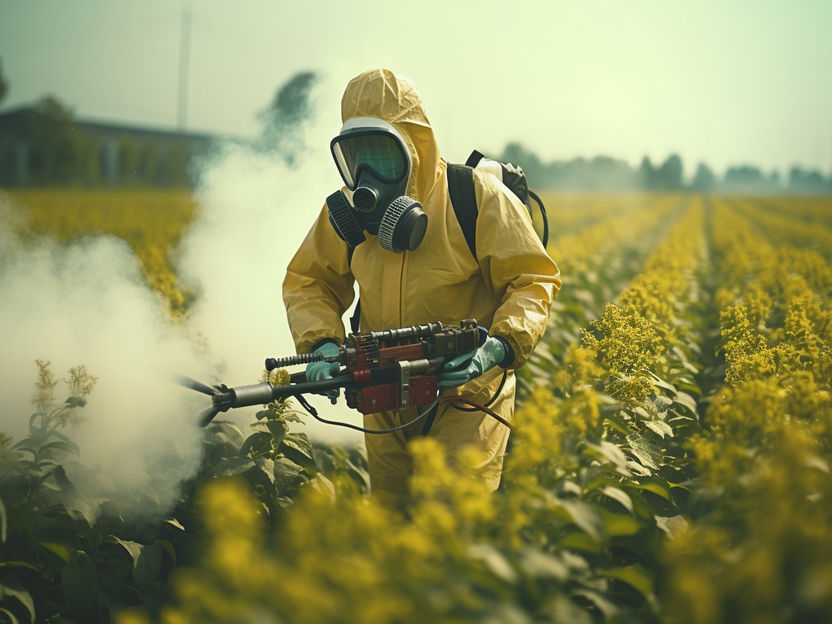 computer generated picture
How does glyphosate work?
The weedkiller has an effect on almost all green plants and has a broader spectrum than almost any other herbicide. The substance does not occur in nature. It blocks an enzyme in the plants that they need to produce vital amino acids. It also occurs in fungi and microorganisms, but not in animals or humans. Glyphosate is not absorbed via the roots, but via green components such as the leaves. The substance spreads and causes a plant to wither and die completely.
How much glyphosate is used?
The former US manufacturer Monsanto, which now belongs to the Bayer Group, introduced the product in 1974 under the trade name "Roundup". Today, according to the Glyphosate Renewal Group - an association of companies that sell the product - the substance accounts for around 25 percent of the global herbicide market. According to the latest figures from the Federal Office of Consumer Protection and Food Safety, just under 4,100 tons were sold in Germany in 2021.
Where is the product used?
In Germany, the vast majority is used in agriculture. However, it is also used in horticulture. According to the German Farmers' Association, glyphosate is used on around 37 percent of arable land. It is used to keep fields free of weeds before or shortly after sowing and again after harvesting.
Where do consumers encounter glyphosate?
Directly in their own garden and indirectly in the supermarket. There are plant protection products for beds and borders that contain glyphosate.
Due to its use in agriculture, traces of the active ingredient can also be found in food - and not only in food that comes directly from the field. It can get into meat via animal feed, for example, explains the consumer advice center in Hamburg. Glyphosate has also been discovered in other products such as beer. However, the amount is harmless, writes the Federal Institute for Risk Assessment.
If you don't want to consume glyphosate, you should choose organic products.
Why is glyphosate controversial from an environmental point of view?
Fewer wild plants in and around the fields means there is less habitat for insects and farmland birds. This also harms agriculture itself, as its yields are largely dependent on pollinating insects. And the herbicide is ultimately found throughout the entire food chain - right up to mammals. A study by the University of Konstanz concludes that glyphosate impairs the learning ability of bumblebees, which reduces their chances of reproduction and survival.
Is glyphosate carcinogenic?
This has been the subject of debate for years. In 2015, the International Agency for Research on Cancer, a body of the World Health Organization, classified the product as "probably carcinogenic to humans". This means that a cancer risk is possible in principle. However, raw and processed meat also fall into this category.
In contrast, the European Chemicals Agency only wrote again in 2022 that the scientific findings were not sufficient to classify glyphosate as a carcinogenic, mutagenic or reprotoxic substance. The EU Food Safety Authority, the German Federal Institute for Risk Assessment and the US Environmental Protection Agency (EPA), among others, have also come to the same conclusion. Glyphosate manufacturer Bayer also rejects the suspicion that the weedkiller is carcinogenic.
Nevertheless, the company is facing numerous lawsuits in the USA. Bayer has had to pay high damages in certain cases, but has also won lawsuits. (dpa-AFX)/sfi/DP/jha
Note: This article has been translated using a computer system without human intervention. LUMITOS offers these automatic translations to present a wider range of current news. Since this article has been translated with automatic translation, it is possible that it contains errors in vocabulary, syntax or grammar. The original article in German can be found here.
Other news from the department politics & laws
More news from our other portals