Colorful premium protein variety
25-May-2023
-
Netherlands, NL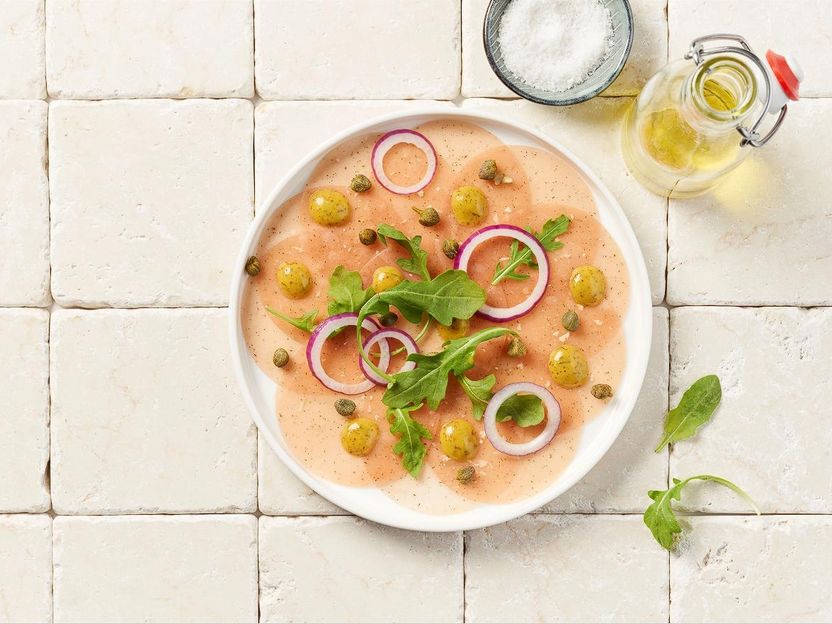 One of this year's vegan trade fair highlights from Vion is the new Plantrecote, a purely plant-based steak made entirely from wheat. The Plantrecote not only looks like a sirloin steak with a tasty fat edge, but also tastes like one. Another speciality is the Salmon Carpaccio made from soy protein, with fresh capers and mustard-dill dressing – and as a delicious premium protein product, ready to eat straight away. With vitamin B12 included in the recipe, it also offers everything for a balanced plant-based diet. Especially colourful and also exclusively plant-based are the several varieties of fruit and vegetable spreads – fresh in appearance and taste, for young and old.
"We supply millions of people with food every day. It is therefore particularly important to us that these foods have many positive nutritional properties and are produced in a way that conserves resources. High-quality protein sources can be so many – they make you creative and taste good. That's what we want to convey at this year's PLMA," Phillippe Thomas, COO Retail Vion Food Group, summarises this year's trade fair appearance.
Note: This article has been translated using a computer system without human intervention. LUMITOS offers these automatic translations to present a wider range of current news. Since this article has been translated with automatic translation, it is possible that it contains errors in vocabulary, syntax or grammar. The original article in German can be found here.
Other news from the department science
More news from our other portals