Purely plant-based is so delicious!
Billie Green presents new snacks and Spanish cold cuts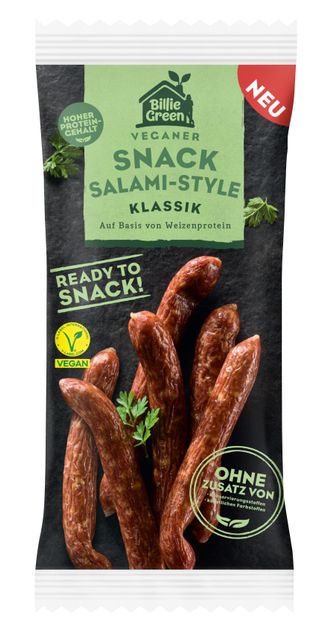 The Plantly Butchers GmbH & Co.
Hearty salvation for hunger pangs is in sight: the Billie Green vegan salami snack chorizo style comes in two flavors. Whether as a classic salami snack with a smoky, spicy note or in the fiery version with chilli: both vegan variants impress with their firm bite and are "ready to snack" - at home or on the go. The Billie Green vegan chorizo-style salami joins the vegan cold cuts as an exciting new variety that packs a punch: Smoky and spicy, it gives your snack a real Spanish touch. Billie Green Vegan Snacks Salami-Style are always quick to hand when you're feeling peckish.
As usual, The Plantly Butchers relies on an innovative production process based on fermentation for its new products. In combination with optimum production conditions and the use of high-quality spices, this creates a unique snack experience. With a high protein content of between 31 and 36 grams, Billie Green products are also a genuine plant-based alternative to conventional meat and sausage products in terms of nutritional physiology.
Note: This article has been translated using a computer system without human intervention. LUMITOS offers these automatic translations to present a wider range of current news. Since this article has been translated with automatic translation, it is possible that it contains errors in vocabulary, syntax or grammar. The original article in German can be found here.
Other news from the department business & finance
More news from our other portals
Something is happening in the food & beverage industry ...
This is what true pioneering spirit looks like: Plenty of innovative start-ups are bringing fresh ideas, lifeblood and entrepreneurial spirit to change tomorrow's world for the better. Immerse yourself in the world of these young companies and take the opportunity to get in touch with the founders.