48% of Germans are reducing their sugar consumption
posing challenges for the dessert market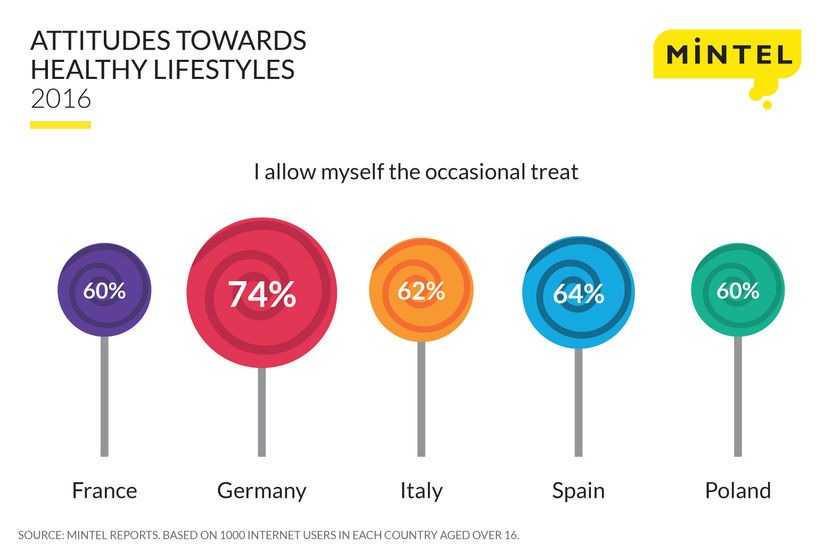 While Germany continues to be Europe's largest dessert market in retail market value, retail volume sales of these treats have stagnated with a slight downward tendency of -0.2% since 2012 to reach an estimated 0.48 million tonnes in 2016. The dessert market, however, is predicted to have experienced modest 0.1% volume growth in 2016. Chilled desserts, such as mousses and puddings, are by far the largest segment, accounting for nearly three-quarters (74%) of total sales in Germany in 2015, followed by frozen desserts like frozen cakes or pastries (24%) and far ahead of ambient desserts, such as fruit compote (2%).
While it seems many consumers may have been skipping dessert, yogurt could reaping the rewards. According to Mintel research, volume sales of yogurt in Germany is predicted to have grown by a strong 1.5% in 2016, with forecast 2.1% market growth through 2020 to reach 1.35 million tonnes.
Julia Büch, Food and Drink Analyst at Mintel, said:
"Across Europe, the retail desserts sector is facing challenging times. In Germany, the market is under pressure as many consumers are seeking to follow healthier diets. While benefiting from an association with freshness, the market for chilled desserts has seen tough times in recent years, owed to growing competition from yogurts and other types of snacks and treats which are positioned more versatility to deliver a powerful combination of both indulgence and health. This creates opportunities for dessert brands in Germany to leverage their indulgent nature with a healthy twist. Healthier indulgence offerings such as gourmet yogurt are poised for growth."

Indeed, it seems that yogurts are seen by many as an healthy option in Germany. Mintel research indicates that over seven in 10 (72%) German consumers agree that yogurts are naturally healthy and 71% agree that yogurt is a good way to get protein into their diet.
As well as a healthier image, it seems that yogurt products in Germany are increasingly receiving an indulgent-style makeover. According to Mintel Global New Products Database (GNPD), yogurts with the "rich" descriptor grew by 500% between 2013 and 2016.
This follows Mintel consumer research which reveals that while the number of Germans avoiding sugar and carbohydrates seems high, Germans are still the most likely in key European markets to give into their cravings. As many as three quarters (74%) of German consumers say that they allow themselves the occasional treat, compared to less than two thirds of consumers in Spain (64%), Italy (62%), France (60%) and Poland (60%).
"Health has grown considerably on consumers' agendas within the past few years, with many consumers putting the focus on indulgence moderation, and considering occasional treats as permissible as part of a balanced diet. Brands are profiting from moving beyond the top drivers of health and naturalness and have increasingly looked to indulgence in recent years, leading to boundary blurring between yogurt and desserts. Making use of creamy textures, rich flavours or both, the new generation of dessert-style yogurts provide full indulgence while still drawing on yogurt's inherent health image, thus putting pressure on the more one-sidedly positioned chilled desserts sector." Julia adds.
Finally, Mintel research finds that many new dessert launches in Germany are embracing vegan claims. In Germany, the share of chilled dessert launches, excluding soya-based yogurt alternatives, featuring vegan claims shot up from 1% in 2013 to 8% in 2016.
One in six (17%) German consumers say that non-dairy yogurts, for instance soy yogurts, are healthier for them than dairy yogurts. However, it seems that brands have their work cut out when it comes to the tastiness of these non-dairy varieties, as currently just one in four (24%) say that non-dairy yogurts are as tasty as dairy yogurts.
Note to Editors
Germany's dessert market includes packaged frozen, chilled and ambient/fresh formats of the following products: cheesecakes; fruit/sweet pies; mousse; puddings; ice cream desserts; jellies (RTE and for preparation served chilled); trifles; tiramisu; baobing; custard/vanilla sauce (prepared and for preparation); packet desserts for preparation.
Other news from the department business & finance
More news from our other portals