100 years of Anuga - 100 years on the pulse of time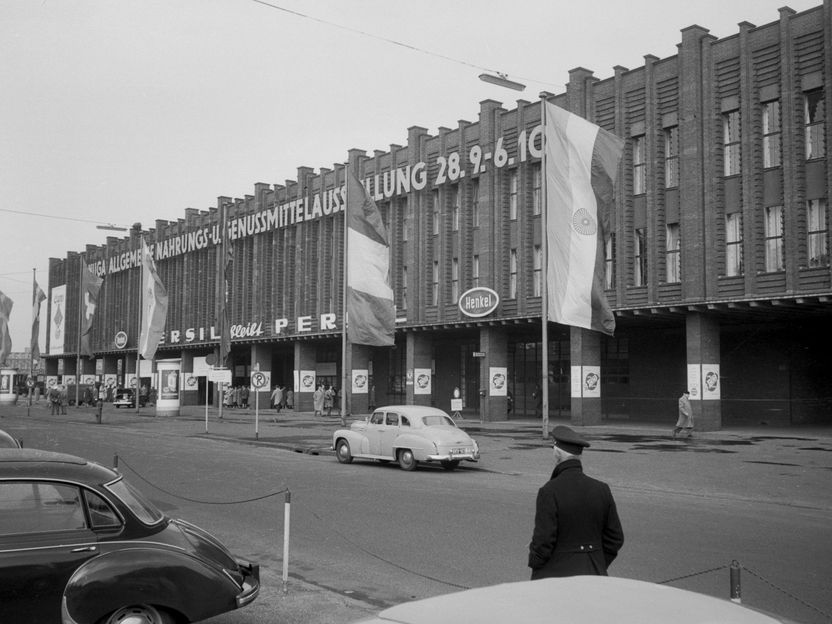 An overview of the milestones
The first Anuga took place in 1919 in Stuttgart with around 200 German companies. The Stuttgarter Neues Tagblatt wrote on September 29, 1919: "The time seems ripe for an exhibition where the merchant can find out about what's on offer." Following the concept of an annual travelling exhibition, further Anuga events followed, including 1920 in Munich, 1922 in Berlin and 1924 in Cologne. With around 360 exhibitors and 40,000 visitors, the first Anuga in Cologne was the best event since it was founded, which is why the organisers were in favour of Cologne as a permanent location. Already at that time there were eight focal points: Food and luxury foods, cooking and baking apparatus, machines for food production, packaging materials and packaging machines, shop fittings, conveyor technology, chemical and cosmetic preparations and promotional items.
In 1951 more than 1,200 exhibitors from 34 countries took part for the first time, which finally established Anuga as the central international business platform for the food industry every two years in Cologne. In 1955 Konrad Adenauer was also impressed: "This show is impressive. You can be proud of it." Over the years, the fair, which developed into leading trade fairs such as ISM and Anuga FoodTec, has evolved from a food and processing platform into a pure trade fair for food and beverages. 2003 saw the implementation of the "10 trade fairs under one roof" concept, which is still established today. Today, with 7,405 exhibitors and around 165,000 trade visitors from the trade and out-of-home market, Anuga is the world's leading trade fair for food and beverages. Like no other specialist event, it offers a globally representative breadth and depth of offerings. But the sheer size was never her only concern. In the course of its 100-year history, its consistent expansion into a trade fair, its qualitative selection and the ever more refined bundling of product groups have made it what it is today: an event unrivalled worldwide in terms of the breadth and depth of its offerings.
Note: This article has been translated using a computer system without human intervention. LUMITOS offers these automatic translations to present a wider range of current news. Since this article has been translated with automatic translation, it is possible that it contains errors in vocabulary, syntax or grammar. The original article in German can be found here.
Other news from the department business & finance
More news from our other portals