Natural labeling eliminates the need for over 22 million plastic packages
10-Oct-2019
-
Netherlands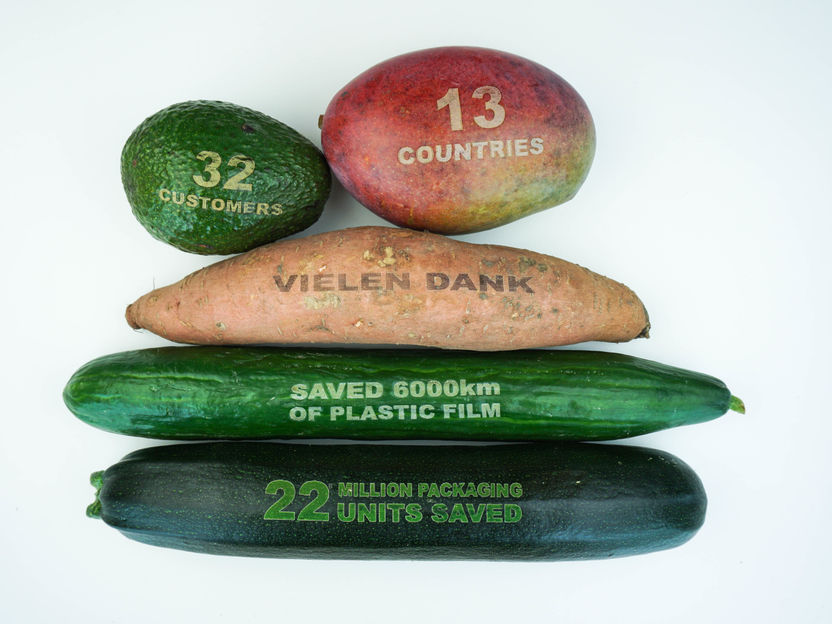 In supermarkets, organic fruit and vegetables are often wrapped in environmentally harmful plastic to distinguish them from conventional goods. At the checkout at the latest, it must be clear whether the customer has to pay the price for the organic product or for the conventional product. In recent years, Eosta has introduced "Natural Labeling", a genuine alternative to plastic outer packaging. A high-resolution laser removes pigments from the outermost shell layer of mango, pumpkin etc. and leaves a permanent, clearly visible mark, e.g. in the form of the organic logo. This eliminates the need for additional plastic packaging.
Both retailers and consumers welcome the unpackaged organic products. Currently, naturally labelled organic fruit and vegetables are available in 32 supermarket chains in 13 countries. Paul Hendriks, packaging expert at Eosta and the driving force behind "Natural Labeling", is delighted: "It's great that our naturally labelled products are meeting with such a positive response and that more and more people are realising that the best packaging is not packaging". Michaël Wilde, Manager for Sustainability Communication at Eosta, is also proud of this success: "Together with our trading partners, we have already been able to save over 22 million plastic packaging items! This corresponds to 6000 km of plastic film or as much CO2 as would be emitted around the world by 255 car journeys," and adds: "We're just getting started!
In addition to "Natural Labeling", organic distributor Eosta offers with its own brand Nature & More further environmentally friendly packaging alternatives to plastic, e.g. made of cardboard, sugar cane fibre or cellulose. The trading company based in the Netherlands has already received several international sustainability awards, most recently the European Environment Award for Companies.
Note: This article has been translated using a computer system without human intervention. LUMITOS offers these automatic translations to present a wider range of current news. Since this article has been translated with automatic translation, it is possible that it contains errors in vocabulary, syntax or grammar. The original article in German can be found here.
Other news from the department business & finance
More news from our other portals