Heineken beer has been brewed using 100% green energy
Since last month, all Heineken beer for the Dutch market has been brewed completely green
04-Sep-2020
-
Netherlands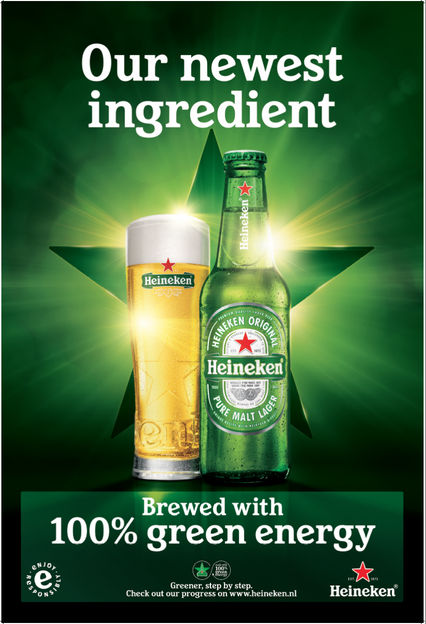 "With our global 'Brewing a Better World' program we are making the chain and our products sustainable step by step. Our ultimate goal is to be fully circular in the Netherlands by 2030 with breweries that are completely climate neutral. Recently, we have been able to take many great steps, including further scaling up biogas and solar energy. I am proud to say that since last month we have been brewing our Heineken® for Dutch consumers using 100% green energy. This applies to all product and packaging variants covered by the Heineken brand in the Dutch market, including Heineken 0.0.

Beer made of hops, yeast, water, wind and sun

Both the thermal and the electrical energy used in the brewery's beer production and the packaging lines for all Heineken® beer for Dutch consumers is sustainably generated. This amounts to around three million hectolitres of beer per year. The green energy consists of solar energy, wind energy and biogas from waste purification. Biogas is produced from the waste water of the breweries in Zoeterwoude and Den Bosch and supplemented with biogas from the waste purification of the Aa Water Authority and Maas. "We really consider green energy to be an indispensable new ingredient in our Heineken beer. Wind and sun are just as important as hops, water and yeast. The use of sustainable energy literally makes Heineken even greener. But our ambition goes further. The next step is to make our packaging materials more sustainable in the short term and to further close the material cycle in the Netherlands". Hans Böhm, Managing Director HEINEKEN Netherlands.
Sustainable steps in 2020 and beyond
In addition to scaling up green electricity and biogas, HEINEKEN in the Netherlands is taking further sustainable steps in the field of packaging materials and logistiscs processes. For example, since this year the brewery offers Heineken 0.0 in refillable green bottle and crate. In addition, more and more pubs in Dutch city centres (e.g. Utrecht and Den Bosch) are being supplied with the sustainable 'mini' tank beer truck, which reduces the need for the large truck. HEINEKEN also focuses on reducing CO2 emissions in Dutch inland shipping in 2021, as the first customer of Zero Emission Services B.V. (ZES). With this new electric sailing system, the brewer can transport emission-free beer from the brewery in Zoeterwoude to the port in Moerdijk.
Affligem also switches to returnable bottle
Affligem Blond and Affligem Blond 0.0% will be introduced in a new packaging form from September. These variants are only available in the brown BNR deposit bottle. The refillable brown returnable bottles will last for years and produce seven times less CO2 emissions than one-way bottles. This makes it the most sustainable form of packaging. The brewer expects to offer all Affligem variants in this bottle in 2021.
Other news from the department business & finance
More news from our other portals