Ritter Sport launches "chocolate" that may not be called chocolate
"Absurd food law"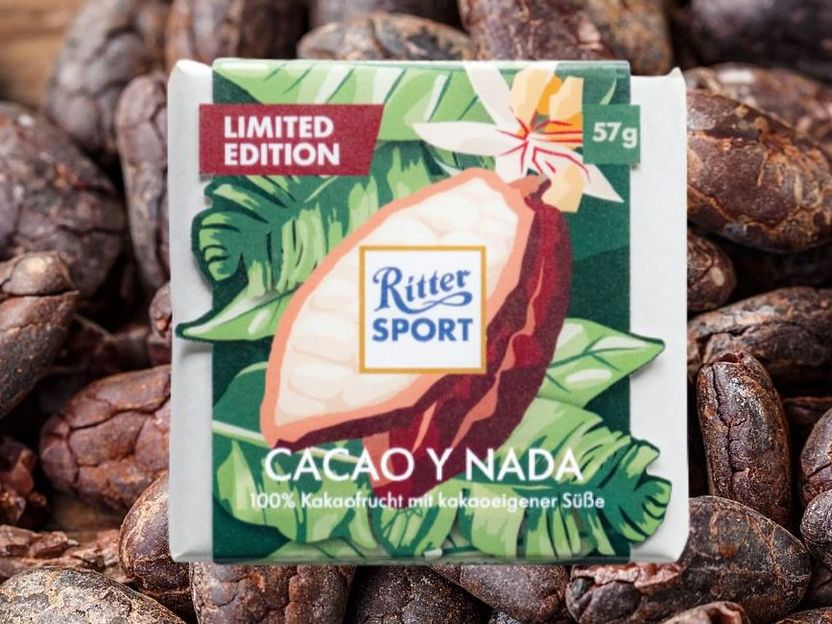 Although the juice of the cocoa fruit has been approved as a food in the EU for a year, chocolate without sugar is not chocolate in Germany. Even if it is naturally sweet, tastes delicious and is made from 100 percent cocoa fruit. "Our food law must keep pace with innovations of this kind," Ronken demands. "If sausage can be made from peas, chocolate doesn't need sugar either. Wake up! This is the new reality."
So the name says it all: Cacao y Nada contains nothing but cocoa. It consists of cocoa mass, cocoa butter, cocoa powder and cocoa juice. Unlike the previously known chocolates with 99 or 100 percent cocoa content, it does not taste bitter, but as pure and sweet as good chocolate should taste.
Ritter Sport launches the world's first cocoa fruit square
Alfred Ritter GmbH & Co KG is probably the only major chocolate manufacturer in the world to grow its own cocoa on its own plantation. This is how the idea came about to use the natural fruit sweetener from the cocoa fruit for a choco****, but which Ritter Sport is officially only allowed to call "cocoa fruit bar". Or: cocoa fruit square. The innovation in the famous square shape will be available in the next few days as a limited edition. Initially, the cocoa juice extracted on El Cacao is only enough for around 2,300 bars. In the medium term, however, a full market launch is envisaged.
Cacao y Nada - the "chocolate" that may not be called chocolate - will be available from the beginning of February as a 57-gram square (retail price 4.99 euros) in the Ritter Sport SchokoShop in Waldenbuch and online. But only while stocks last.
Background: "From leaf to root
A cocoa fruit is about the size of an American football and, depending on the variety, green, yellow, orange, red or purple. Open the hard shell to reveal the white, somewhat gooey pulp. It encloses the seeds of the cocoa fruit, the cocoa beans. Only these beans are normally used. They are fermented, dried and processed into cocoa mass or cocoa butter, which is then made into chocolate, for example.
So only a small part of a cocoa fruit is used. The rest is waste. "Not really up to date" thought the cocoa experts at Ritter Sport and looked for ways to process the whole fruit. Analogous to the "from leaf to root" principle in modern kitchen logic. At El Cacao, the Ritter Sport cocoa farm in eastern Nicaragua, the shells are composted, returning important nutrients to the soil for the cocoa trees. They also serve as a habitat for insects needed to pollinate the cacao flowers. And the fruit pulp, or rather the cocoa juice? That usually just runs off during fermentation, although it tastes fruity-sweet and a bit like lychee.
At El Cacao, the juice is now collected, filtered and pasteurized. Until a year ago, only the beans of the cacao fruit were permitted as food in the EU. Yet cocoa juice is a real all-rounder. For example, it can be drunk as a spritzer, made into a kind of wine or distilled into schnapps. Or you can use it for sweetening. Cacao y Nada shows what is possible with chocolate if you leave the usual paths. And at some point, what tastes like chocolate must also be allowed to be called chocolate in Germany.
Note: This article has been translated using a computer system without human intervention. LUMITOS offers these automatic translations to present a wider range of current news. Since this article has been translated with automatic translation, it is possible that it contains errors in vocabulary, syntax or grammar. The original article in German can be found here.
Other news from the department business & finance
More news from our other portals