Endlessly Refreshing
Coca-Cola rolls out bottles made from 100% recycled PET plastic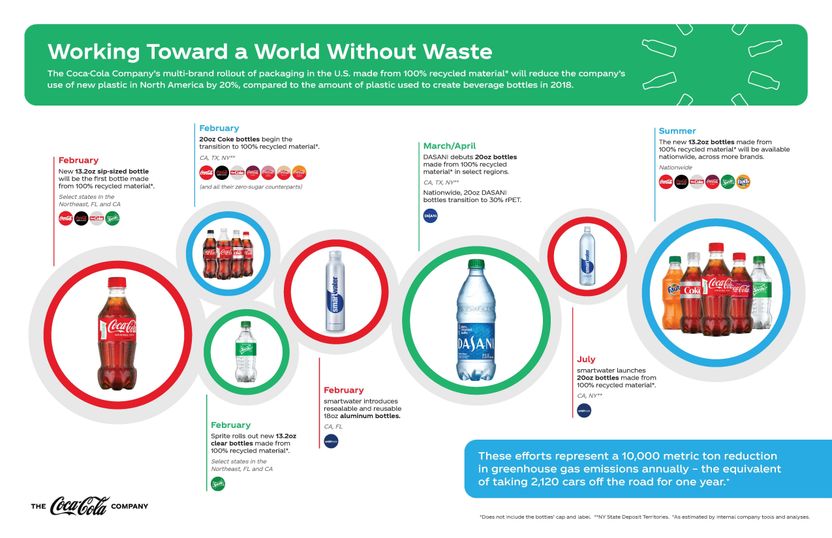 "Challenges around plastic packaging waste and recycling continue to be top of mind for our consumers, customers and our system," said Alpa Sutaria, vice president and general manager, sustainability, North America Operating Unit. "Introducing 100% recycled PET bottles is a big proof point of how recycling can help create a circular economy."
The new 13.2-oz. bottle – the first-ever Coca-Cola package made from 100% rPET in the United States – uses less plastic and offers a convenient, sippable portion size. "On-the-go consumers have been telling us they want an option like this, because it's just the right amount for the 'snacking' occasion," said Tammy Lee, brand manager, Coca-Cola Trademark. "We believe this innovation delivers the double benefit of convenience and sustainability."
Coca-Cola North America's rPET innovations spans the portfolio and includes multiple brands and packaging sizes:
Coca-Cola trademark brands will roll out 20-oz. bottles made with 100% rPET in California, New York and Texas starting this month.
DASANI will launch 20-oz. 100% rPET bottles in New York, California and Texas in March.
smartwater will launch 20-oz. 100% rPET bottles in New York and California in July.
Sprite will launch a 13.2-oz 100% rPET clear bottle in New York, California and Florida this month. All Sprite packaging will transition to clear packaging, which is easier to be recycled and remade into new bottles, by the end of 2022.
Combined, these innovations represent a 20% reduction in the company's use of new plastic across its North American portfolio compared to 2018. They will collectively reduce 10,000 metric tons of greenhouse gas emissions annually in the United States – the equivalent of taking 2,120 cars off the road for one year – based on internal company tools and analyses.
The U.S. is the 19th market to roll out bottles made of recycled packaging, bringing The Coca-Cola Company closer to its World Without Waste goal of making bottles with 50% recycled content by 2030. Announced in 2018, the sustainable packaging platform also includes a goal to collect and recycle the equivalent of a bottle or can for every one the company sells globally by 2030, and to make 100% of its packaging recyclable by 2025.
More than 94% of the company's North American packaging is currently recyclable.
"This marks a major milestone in a large and complex market," said Sutaria, who will speak today at the GreenBiz 21 sustainable business conference. "While we still have a lot of work to do to reduce plastic waste, by educating consumers about recycling and the potential for plastic bottles to become new plastic bottles, we see this as a big move in the right direction."
To build awareness and encourage action, all 100% rPET package labels will include "Recycle Me Again" messaging. In fact, four different areas on the packaging will educate people about recycling. A primary goal of the "Endlessly Refreshing" campaign – which also will include outdoor, radio, in-store and social/digital communications, plus touch-free experiential activations – is to boost recycling rates so rPET bottles can be used again and again to create raw material for new bottles, supporting closed-loop recycling systems and a circular economy.
"Our packaging is our biggest, most visible billboard," Sutaria said. "We're using the power of our brands, leading with Coca-Cola, to educate, inspire and advance our sustainability priorities."
Other news from the department business & finance
More news from our other portals