Johnnie Walker Blue Label presents: Elusive Umami
The mysterious fifth taste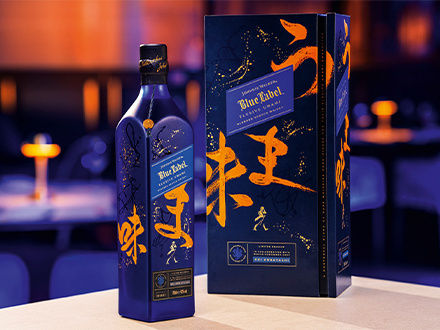 "It was a once-in-a-lifetime experience," says Dr. Emma Walker, Master Blender at Johnnie Walker, summing up the collaboration with Kei Kobayashi. "Armed with our combined expertise, we embarked on an indulgent journey of discovery to create a blend that embodies the essence of the mysterious umami." The Japanese term umami is the so-called "fifth taste". They have developed an exceptional spirit that will delight both experienced whisky connoisseurs and newcomers to the world of whisky alike.
A true feast for the senses
"It has an unfathomable texture and reveals lush intensity, complexity and depth that ignite our senses," says Kei Kobayashi, describing this boundary-pushing innovation. On the nose, this blend impresses with a sweet note of fresh apples and a hint of confectionery, accompanied by delicate nuances of cashew nuts. At the same time, it develops a piquant spiciness with salty notes that do not detract from the freshness. On tasting, apple and white peach stand out first. The balanced Scotch caresses the senses with aromas of blood orange and red berries as well as a hint of smoked meat, warming pepper and salt. The finish is long with a fruity-sweet note of spicy wood.
Umami in perfection: A rare treat
For this exceptional spirit, whiskies from hand-picked casks from inland and coastal distilleries are selected at the peak of their maturation process for their unique umami flavor profile. Ultimately, only one in 25,000 whisky casks brings this incredible umami note to life. This fascinating blended Scotch is best served neat. Due to the high concentration of umami and the mineral character, caviar goes particularly well with it to unlock the full depth of the unique taste experience. The exciting design of this rare blend, which pushes the boundaries of perception, makes this limited edition a highly desirable whisky to give as a gift and a collector's delight.
Note: This article has been translated using a computer system without human intervention. LUMITOS offers these automatic translations to present a wider range of current news. Since this article has been translated with automatic translation, it is possible that it contains errors in vocabulary, syntax or grammar. The original article in German can be found here.
Other news from the department business & finance
More news from our other portals