HITCHCOCK Juice Collection bottle from Ardagh wins the "Product Innovation in Glass" award
Glass bottle impresses with its design and functionality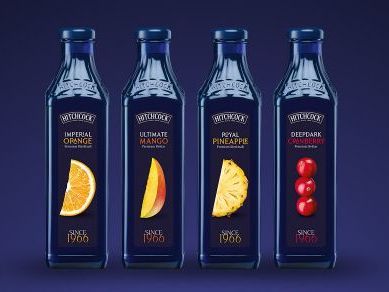 Glass bottle impresses with its design and functionality
Imperial Orange, Golden Grapefruit, Royal Pineapple, Ultimate Mango and Deepdark Cranberry are Hitchcock's range of not-from-concentrate and premium nectars. The new elegant, blue glass bottle gives the Juice Collection a bold and premium look.
Andreas Falk, Nienburg Plant Manager, says: "Our aim, when designing the Hitchcock glass bottle, was to reflect the premium quality of the juices for the Juice Collection. This award encourages us to continue to innovate and to develop new juice packaging design concepts in the future".
The Ardagh facility at Nienburg is one of the few glass producers that manufactures dark royal blue glass. The blue bottles are not only beautiful, but also protect the juices inside from light. The bottle's combination of design and functionality impressed the expert judges of the Aktionsforum Glasverpackung.
Judges commented: "The Hitchcock Juice Collection exudes high quality through both the content and the packaging quality. Hitchcock have continued to use the iconic and distinctive bottle shape in the new collection, developing the design with a larger bottle in blue glass. The simple label design with the fruit symbol completes the well-thought-out product innovation."
"We are delighted that our new glass bottle design has been recognised by this prestigious award", says Kim Katharina Reiners, Brand Manager at Hitchcock.
The "Product Innovation in Glass" award
Glass is a sustainable packaging material which can be infinitely recycled without any loss of quality. The annual "Product Innovation in Glass" award rewards the communication of this and other special features of glass within packaging design. 2021 is the eighth year the award has been presented.
Other news from the department business & finance
More news from our other portals