Barry Callebaut announces groundbreaking of new chocolate factory in Baramati, India
New greenfield factory expected to be operational by mid-2020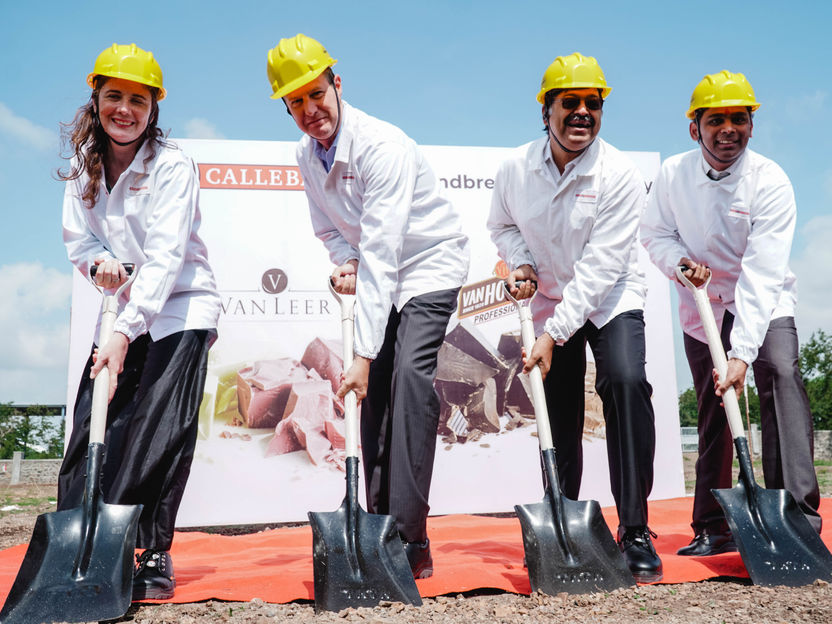 Upon completion, the new chocolate factory and warehouse will include state-of-the-art assembly lines capable of manufacturing chocolate and compound in different delivery formats, catering to the various needs of its customers – international food manufacturers, local confectioneries and semi-industrial bakers and patisseries. The new greenfield facility in Baramati will cover a total of 20,000 m2 and is scheduled to be operational by mid-2020. Once fully operational, it will have an annual production capacity of more than 30,000 tons of chocolate and compound and employ between 100 - 120 people, thus creating new skilled jobs, mainly in engineering and production.
The factory in Baramati will also be equipped with an R&D lab. Furthermore, together with its existing CHOCOLATE ACADEMY™ Center in Mumbai, the company intends to advance its work with customers to co-create innovative chocolate for local consumers. This week, Barry Callebaut also moved its sales operations into a new, larger office in Mumbai.
Continued expansion in India
The realization of the plant represents Barry Callebaut's biggest investment in India. This expansion of the Group's footprint in India is tied to the country's rapidly developing demand for high-quality chocolate, and will serve to meet the growing needs of Barry Callebaut's customers.
India is one of the fastest growing markets for the chocolate confectionery industry. Sales volume of chocolate confectionery in India grew +16% in 2018 (+6.5% CAGR 2013-2018), according to Nielsen1. The chocolate confectionery market in India is expected to continue to show strong growth in the coming five years, according to Euromonitor.
The company has built its presence in India by serving food manufacturers, and established a strong network of nationwide distribution and committed channel partners over the years.
In recent months, Barry Callebaut has partnered with local chocolate manufacturers to introduce Ruby chocolate, the fourth type of chocolate after Dark, Milk and White chocolate, and also launched its locally-produced Van Houten Professional chocolate in the country.
Expanding across Asia Pacific
Barry Callebaut is one of the largest chocolate and cocoa manufacturers in Asia Pacific. Employing more than 1,800 employees in the region, the company already operates nine other chocolate and cocoa factories in Asia, namely in China, Indonesia, Japan, Malaysia, and Singapore. In the last 12 months, the company has also expanded its sales operations in Australia, Indonesia and the Philippines, in addition to its existing sales offices in India, Japan, Malaysia, Singapore, and Thailand. Its second chocolate factory in Indonesia is currently being built in Rancaekek (near Bandung).
1 Source: Global Chocolate Confectionery, Nielsen (January 2018 to January 2019)
Other news from the department business & finance
More news from our other portals