Ricola generates record sales in 2022
10-May-2023
-
Switzerland, CH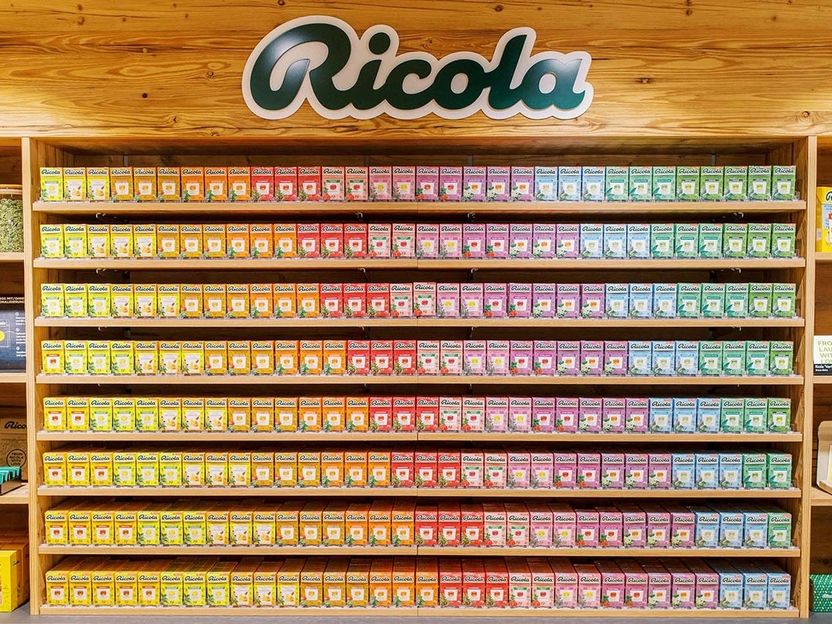 Although the measures against COVID-19 have been lifted or at least greatly reduced in most countries, the war that broke out in Ukraine in February 2022 and inflation are causing great uncertainty in many important markets worldwide. Nevertheless, the Ricola Group managed to generate sales in 2022 that exceeded those of 2019, its most successful year to date.
North America: Markedly expanded brand presence
After the corona-related lockdowns were lifted, several strong waves of flu and colds followed in North America, accompanied by mild covid-19 illnesses, the majority of which affected the upper respiratory tract. Market sales for cough drops in the U.S. and Canada grew at a double-digit percentage rate in 2022 compared to 2019, with Ricola herbal candies benefiting directly from the strong increase in demand for cold remedies. In the US, Ricola gained significant market share, with sales growing significantly faster than the market average. Ricola was able to gain shelf space and expand its brand presence in both the US and Canada, not least thanks to new products such as the 'Ricola Max' line and 'Ricola Berry Medley'.
Europe: encouraging development in the main markets
In Germany, Ricola's largest European market, the sales joint venture CFP Brands achieved a marked increase in sales in a highly competitive environment. Ricola succeeded in attracting more consumers to its products. With 'Ricola Eucalyptus Cherry', the company successfully launched a new candy variety in Germany and Austria in September 2022.
In the French confectionery market, Ricola 2022 achieved a record market share. In November, the first Ricola Boutique opened its doors for six months in the trendy Le Marais district of Paris. The 'Douceur de Miel' and 'Echinacée Miel Citron' products, which were previously only available in sachets, are now also offered by Ricola on the French market in the practical Z-click box thanks to a new type of coating on the candies.
In Switzerland, Ricola had an exceptionally strong year. The entry into Migros in October 2022 marked a high point in the home market. A roadshow in selected Swiss cities brought the Ricola herb gardens to selected cities in early summer. In the fall, an interested public received an introduction to candy making in large Coop outlets. Ricola engaged Niels Hintermann, a professional Swiss ski racer, as brand ambassador for the first time.
Business in Spain, Belgium and various Eastern European countries was positive. The Travel Retail business managed by Ricola Switzerland performed very well thanks to the recovery in international travel.
Asia: recovery after lockdowns lifted
In many Asian markets, Ricola's business recovered after the Corona-related slump. Ricola's strongest performance was in South Korea, where the well-known actor Park Seo Joon was engaged as brand ambassador. His high profile led to many trial purchases, which was reflected in considerable growth. In China, sales were still below expectations as corona-related lockdowns were maintained until the end of the year.
Sustainability: Six focus areas
Ricola's Board of Directors approved the company's evolved sustainability strategy in 2022, with focus areas on Agricultural Principles, Climate Protection, Packaging, Waste, Water and Supply Chain.
Already today, 100 percent of the herbs used by Ricola meet the standards of natural cultivation. In the medium term, the company aims to have other raw materials grown and processed in accordance with Ricola's agricultural principles. To this end, Ricola experts are in close contact with the producers.
For packaging, Ricola uses paper and cardboard that is either FSC certified or recycled. In collaboration with a supplier, candy tins were developed in 2022 that produce 50 percent less carbon dioxide.
Since 2012, the company has succeeded in reducing waste from production from ten to six percent, and water consumption in candy production has also been reduced.
Meanwhile, 98.8 percent of all raw material suppliers have signed the Ricola Code of Conduct.
Ricola is aiming for certification as a Benefit Corporation (B Corp) by the end of 2023. This certification demonstrates that the company demonstrably meets the highest standards in the areas of social and environmental sustainability, corporate responsibility and transparency.
Ricola is off to a good start in 2023 despite a continued challenging international environment with inflation, currency fluctuations and supply chain difficulties. The company is confident that it will achieve the targets it has set for this year as well.
Note: This article has been translated using a computer system without human intervention. LUMITOS offers these automatic translations to present a wider range of current news. Since this article has been translated with automatic translation, it is possible that it contains errors in vocabulary, syntax or grammar. The original article in German can be found here.
Other news from the department business & finance
More news from our other portals